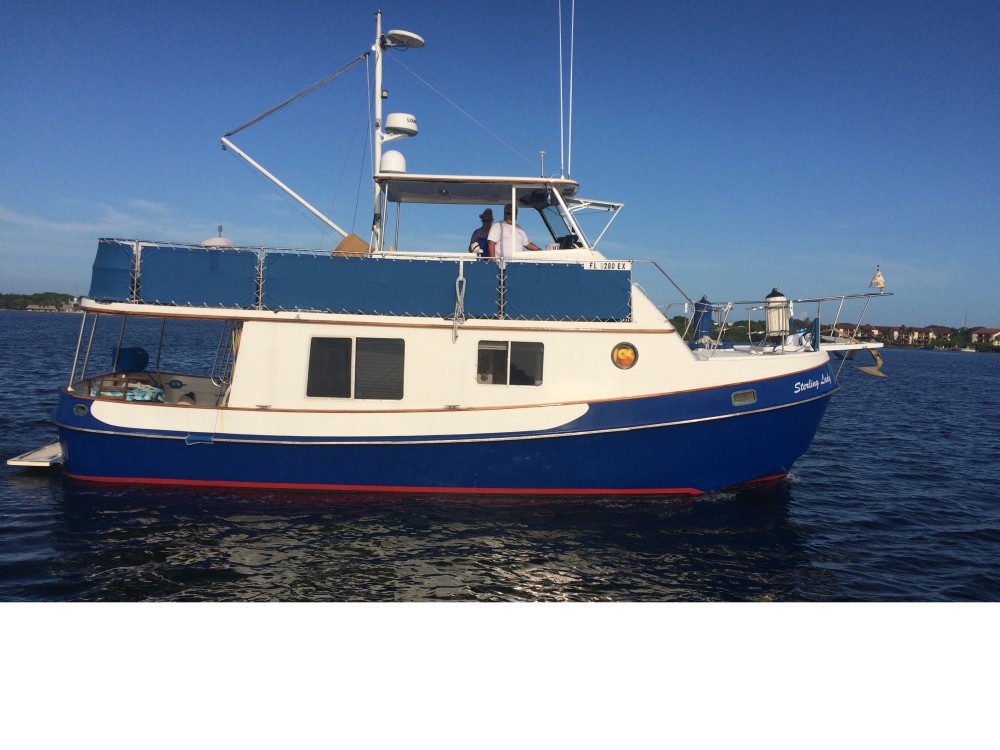 ​

This boat is , in my humble opinion, one of the best desighned trawlers ever.
​We cruise at 7.5 mph, with our 100 hp Yanmar diesel, she gets 5 mpg!!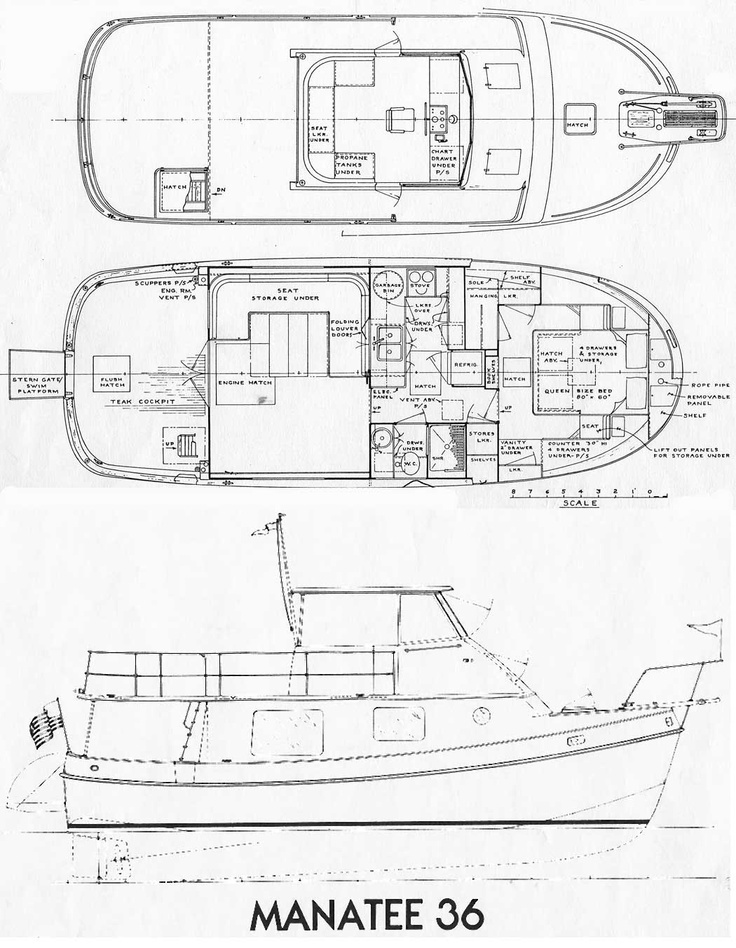 ​There is a remarkable amout of space for a 36 ft. boat. Very well thought out. Daft is 3.5 ft, air hight is 22 ft. beam 14 length 36.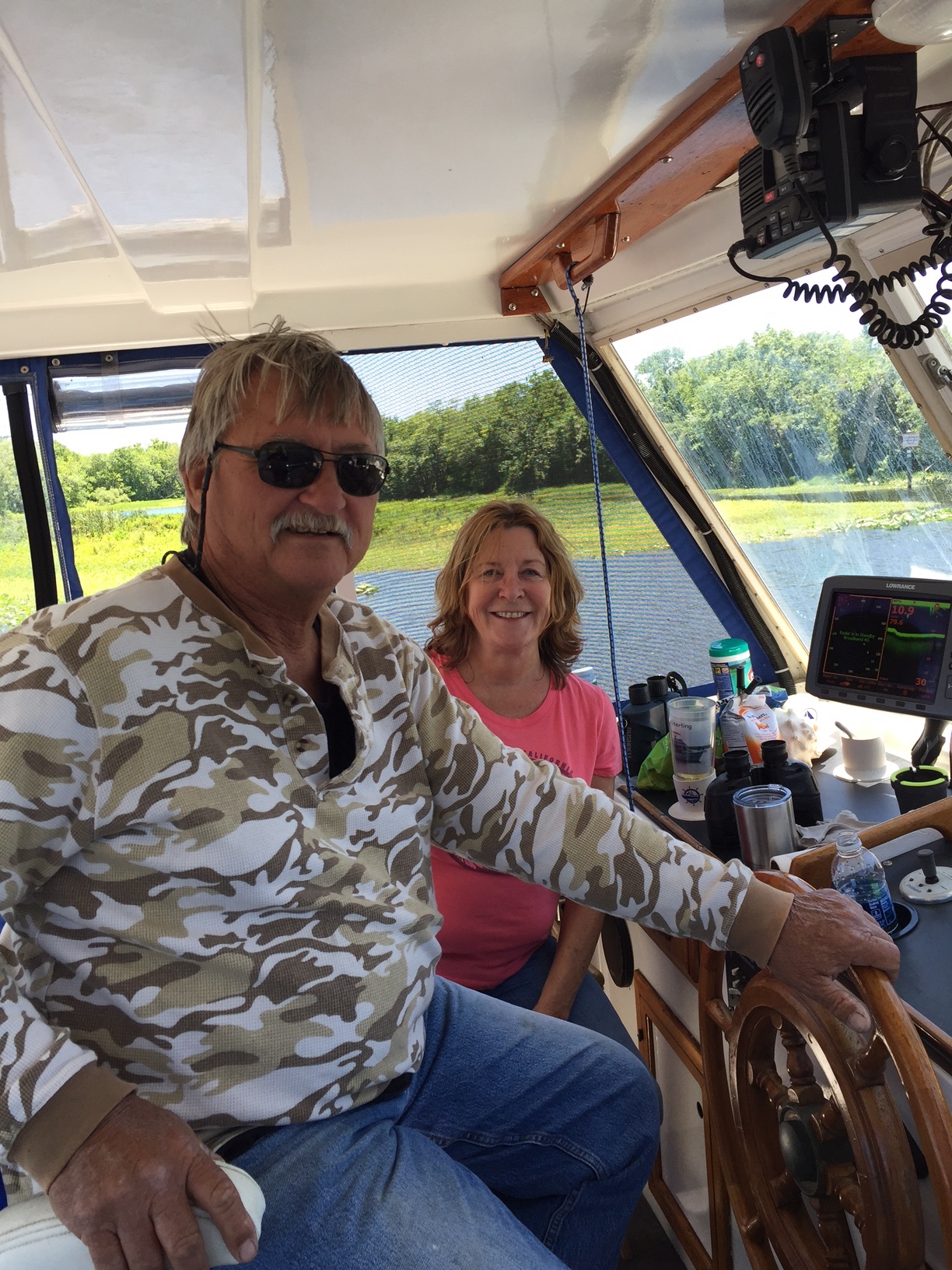 We left Monroe Harbor, Sanford Florida May 1st for a 4 month cruise around Florida, a cruise to "Nowhere" and back.

This is not us, this is

Dave and Terry Hann, came along for the first week with us down the St. Johns river to Ortega , in Jacksonville fl.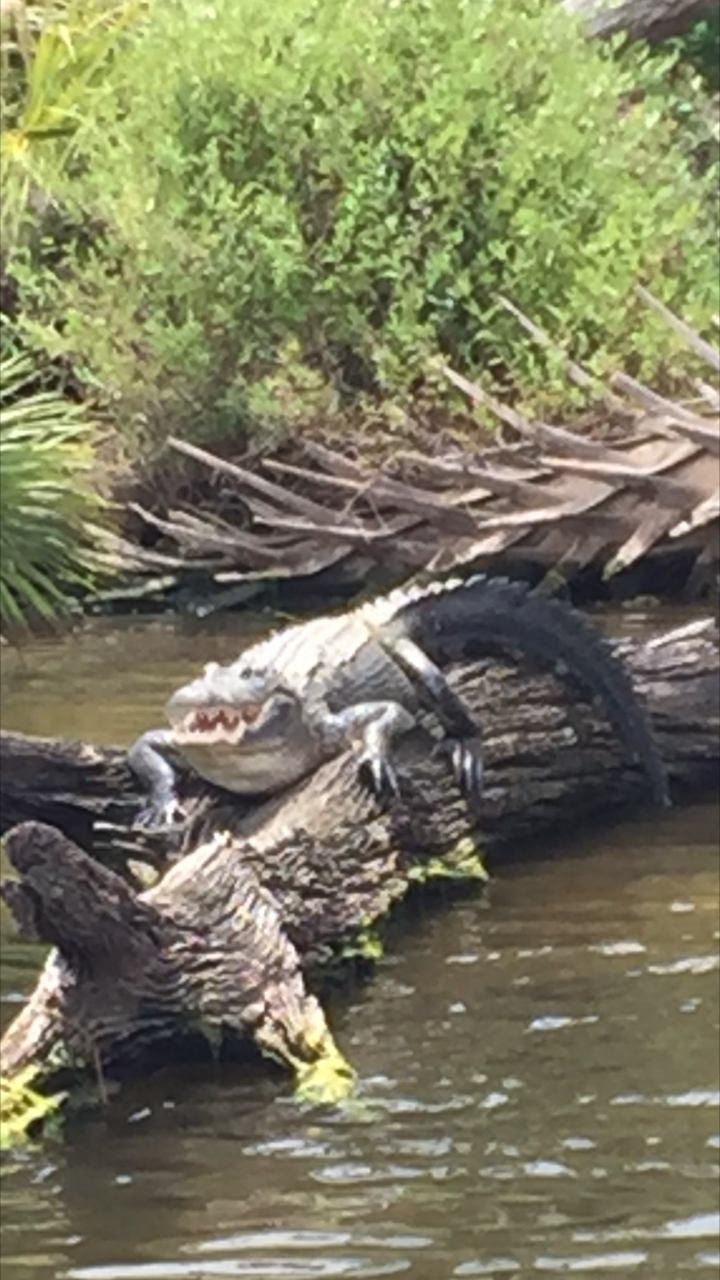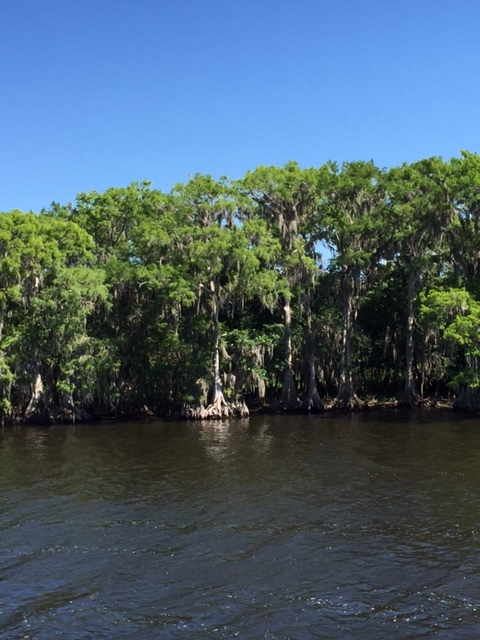 ​We have cruised the St. Johns river many times , and it never gets old. One of my favorite rivers. Very senic, lots of wild life, gorgeous!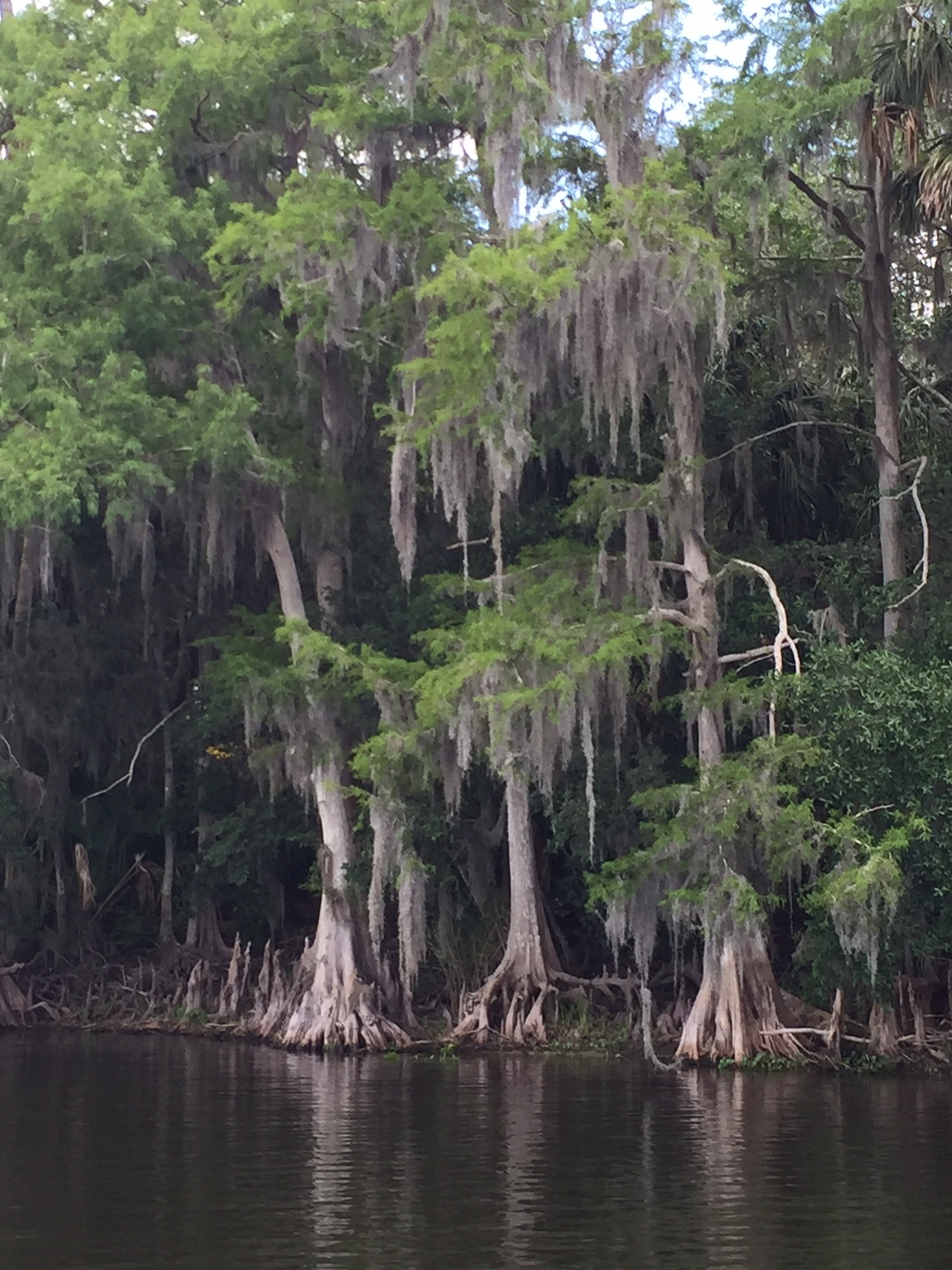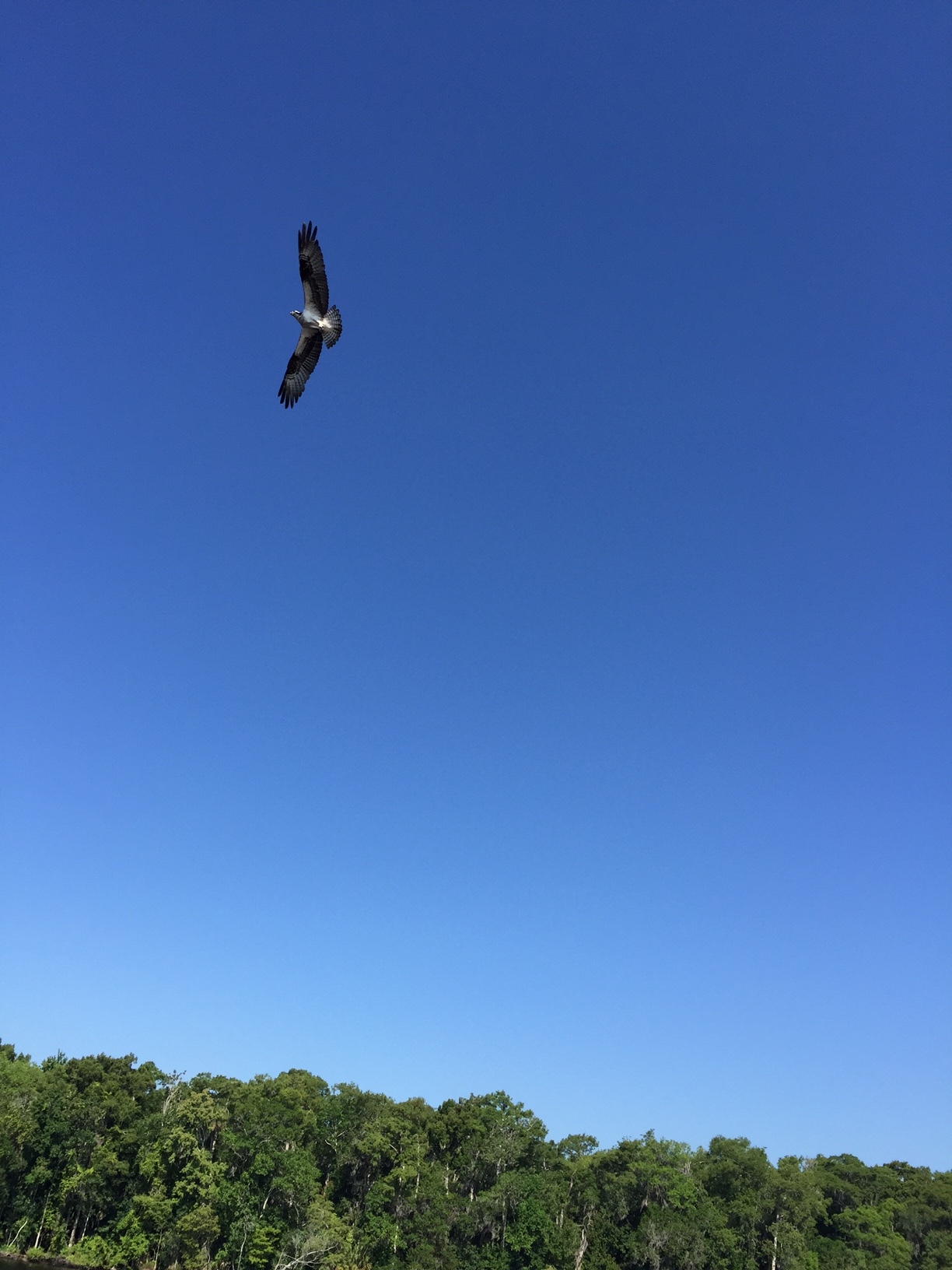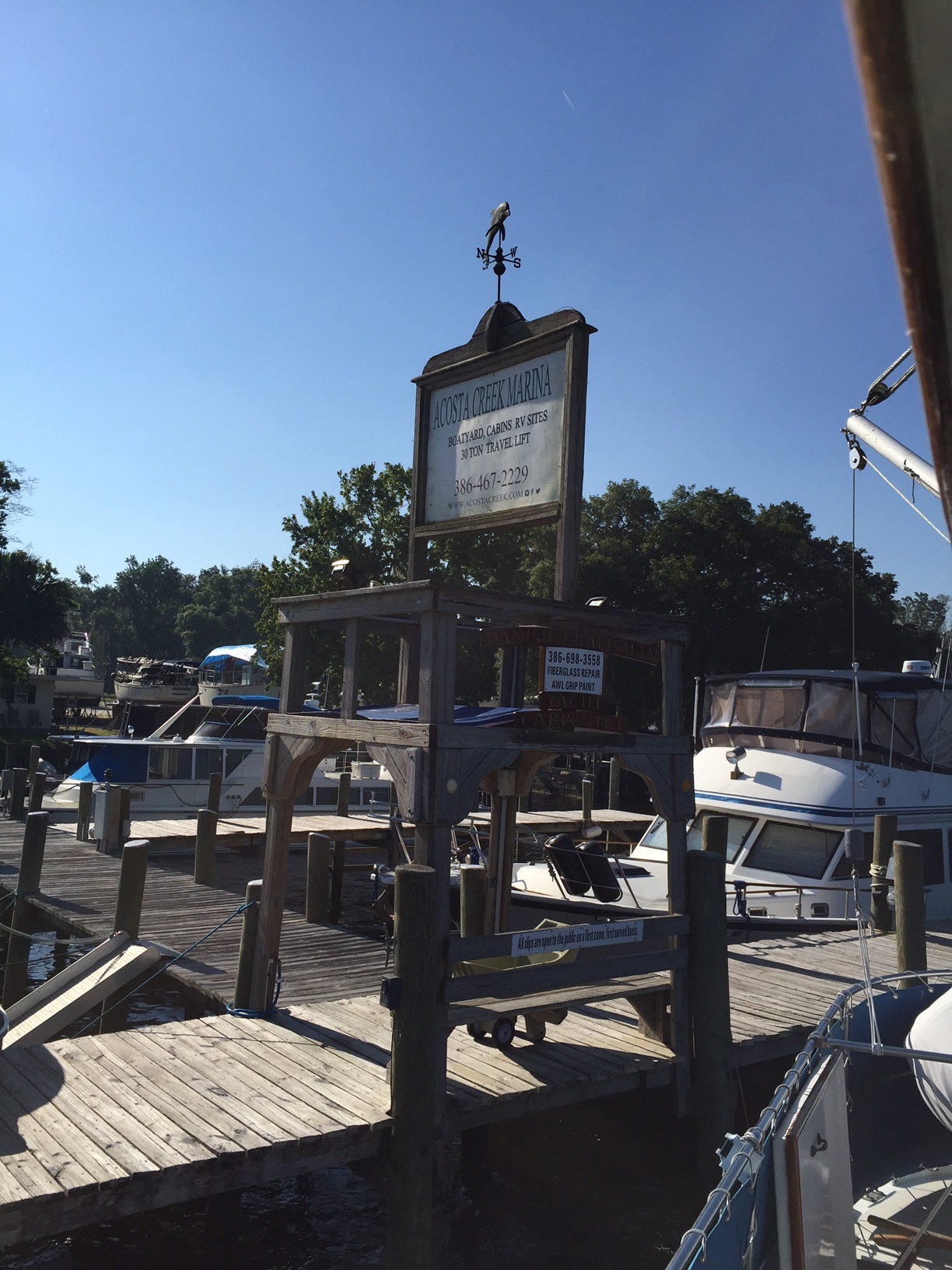 Since Dave and Terry, our guests, wanted to stay at hotels instead of the boat (understandable) we stoped at places with hotels or motels.

first stop, ACousta Creek Marina, small motel and marina.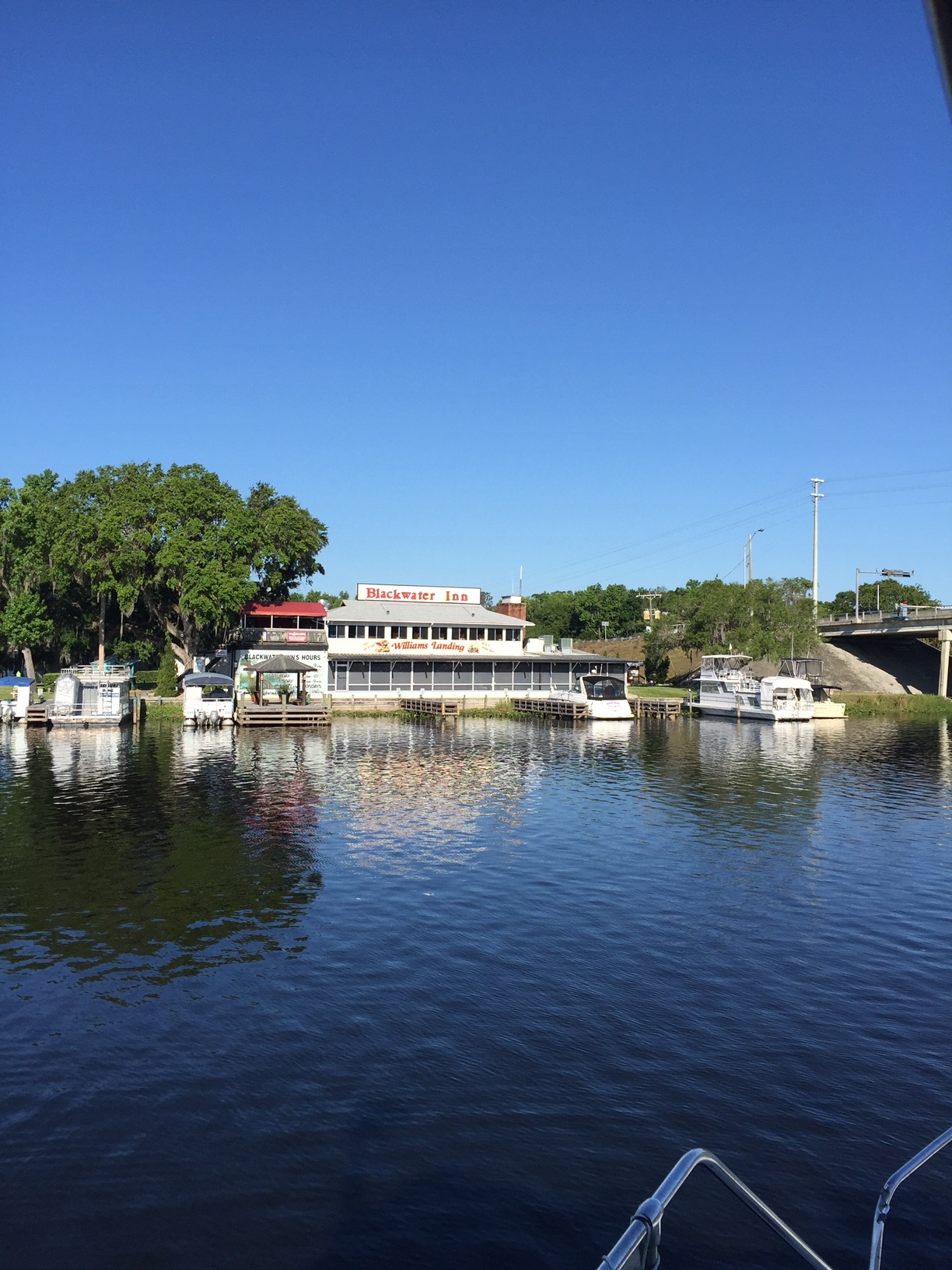 Secound stop was Astor Bridge marina, which used to be reasonable. The where $1 a ft. , comparable to all the rivers marina, but they raised there prices to $2 a foot, way out of line.

Next trip we will stay across the river at the Blackwater In, $35.​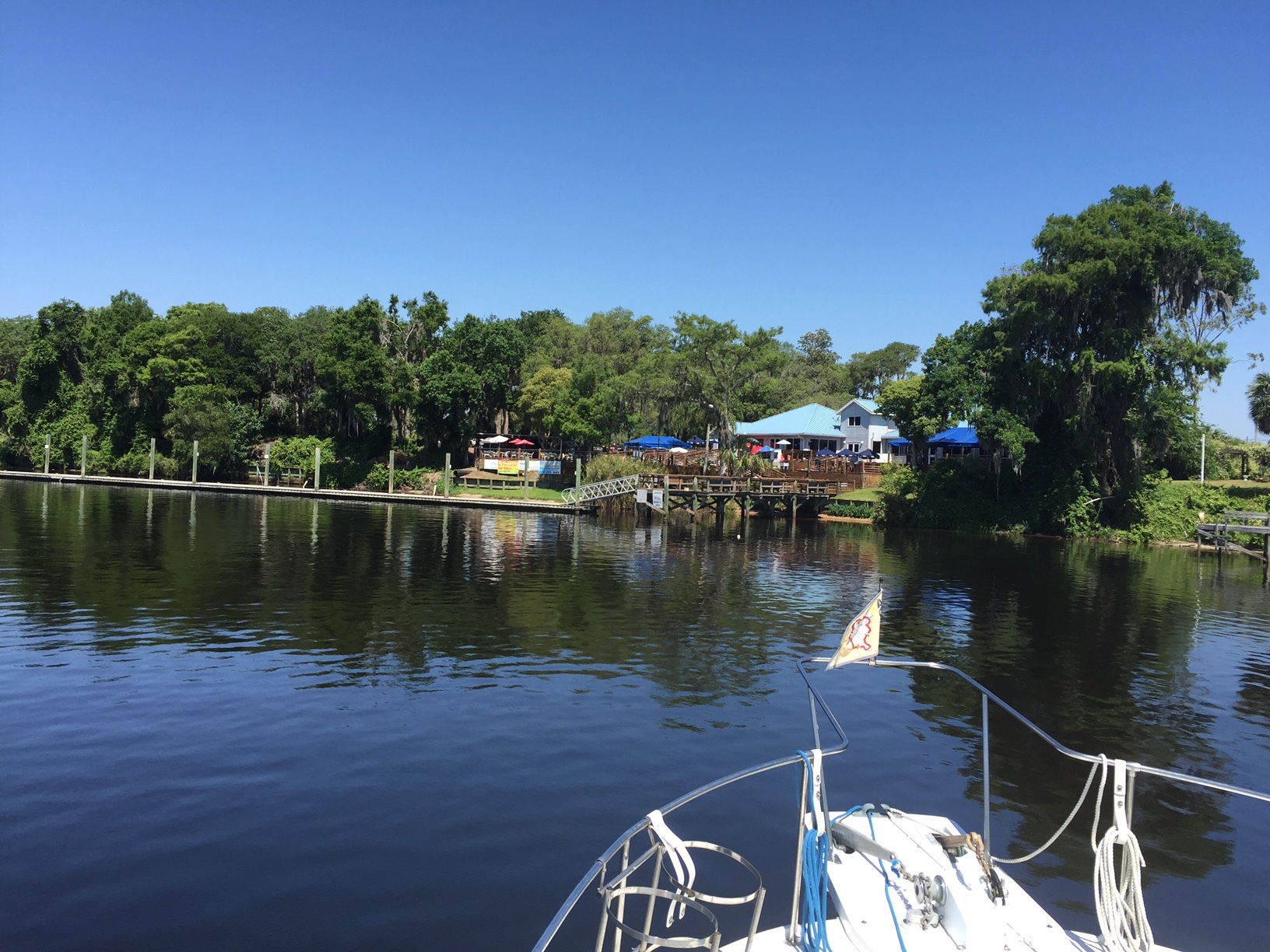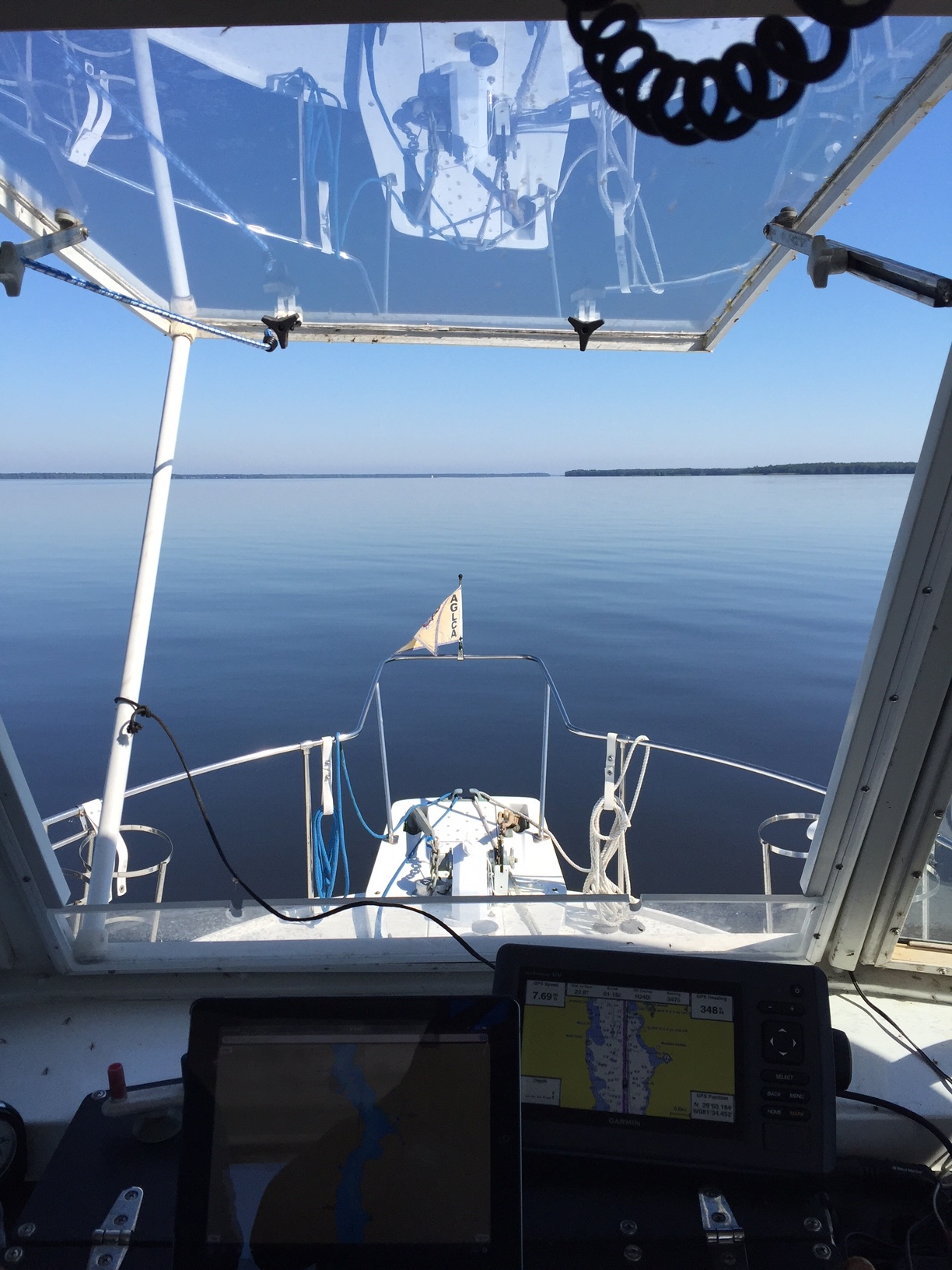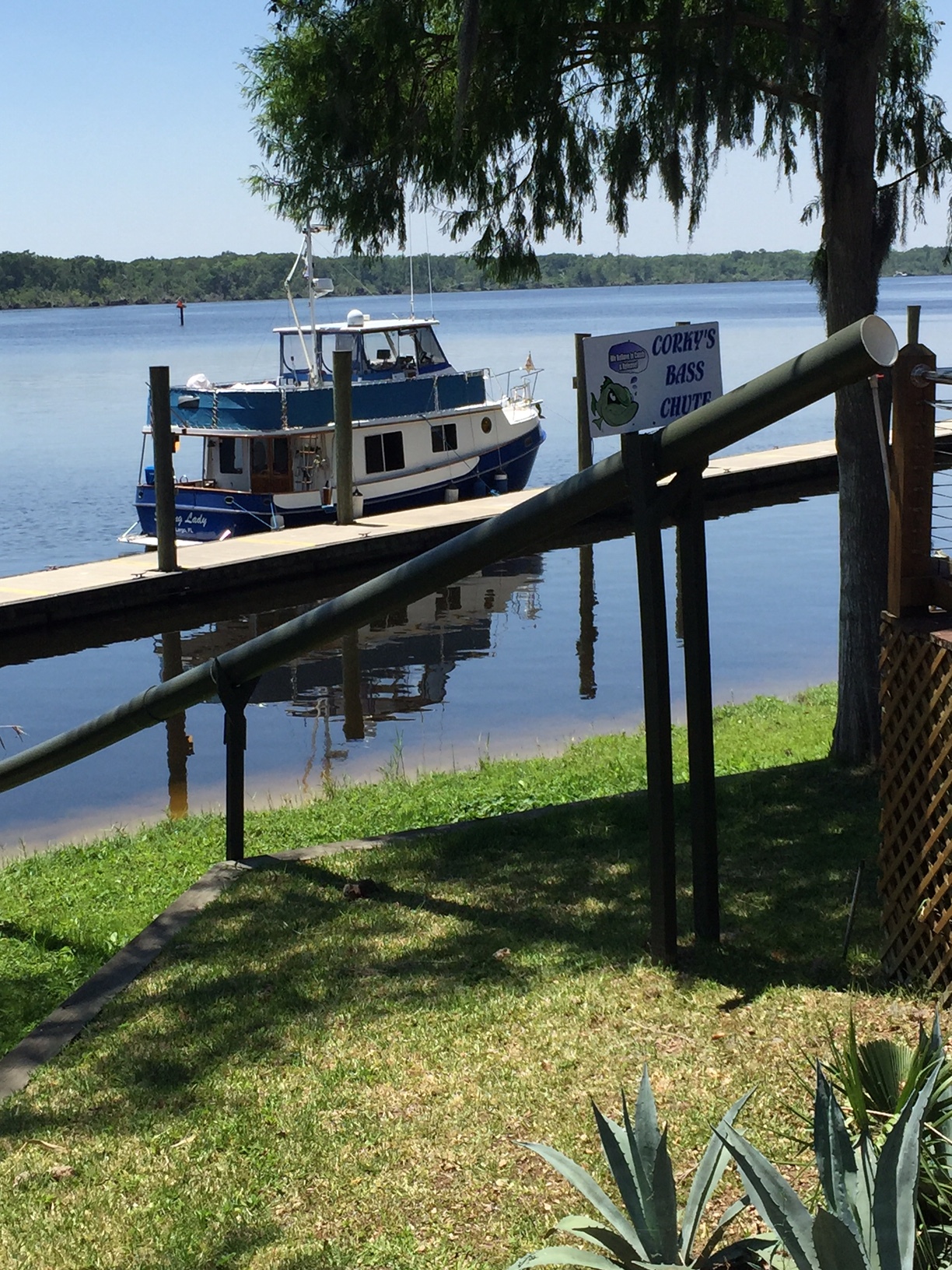 Palatka's Corky Bells restuarant. Free dock.

From Palatka, the river gets wide. But the weather was perfect, smooth like a lake.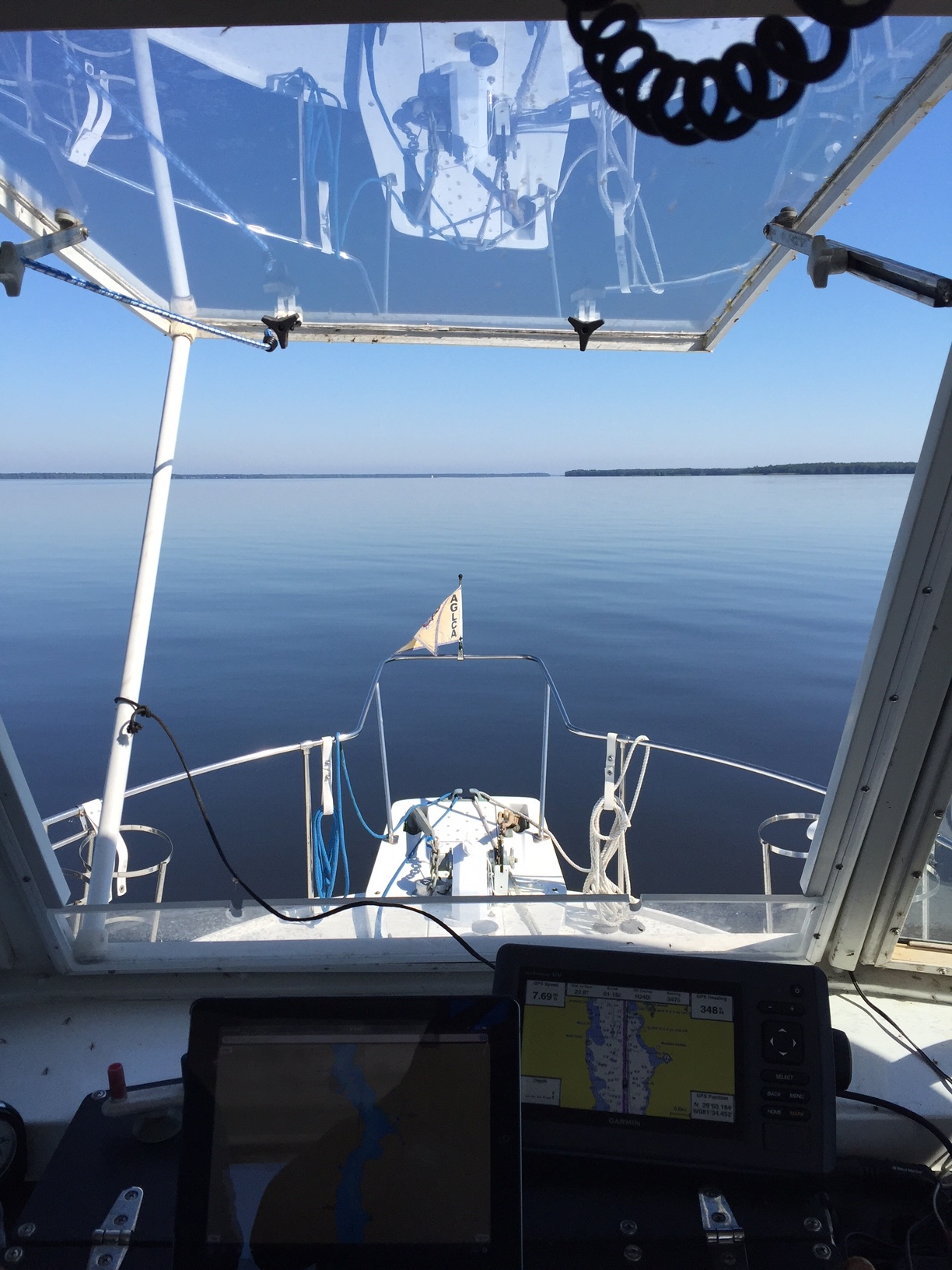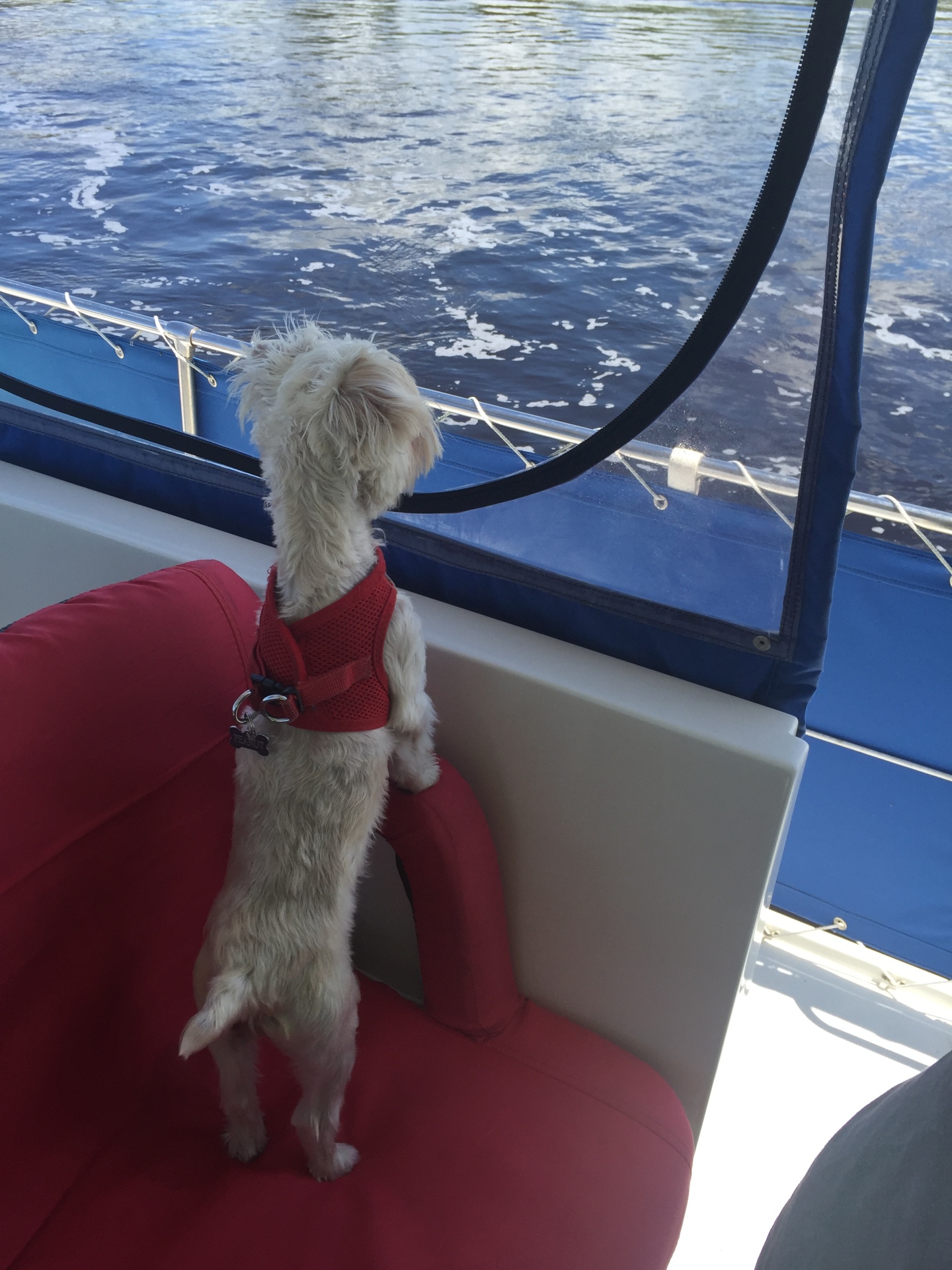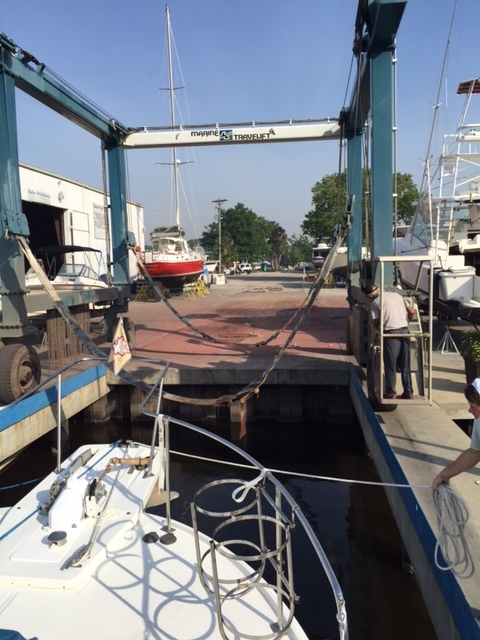 ​It was way past due for a bottom job, ( 5 years)  so we had the Lady hauled at Sadler Point Marina in Jacksonville Fl.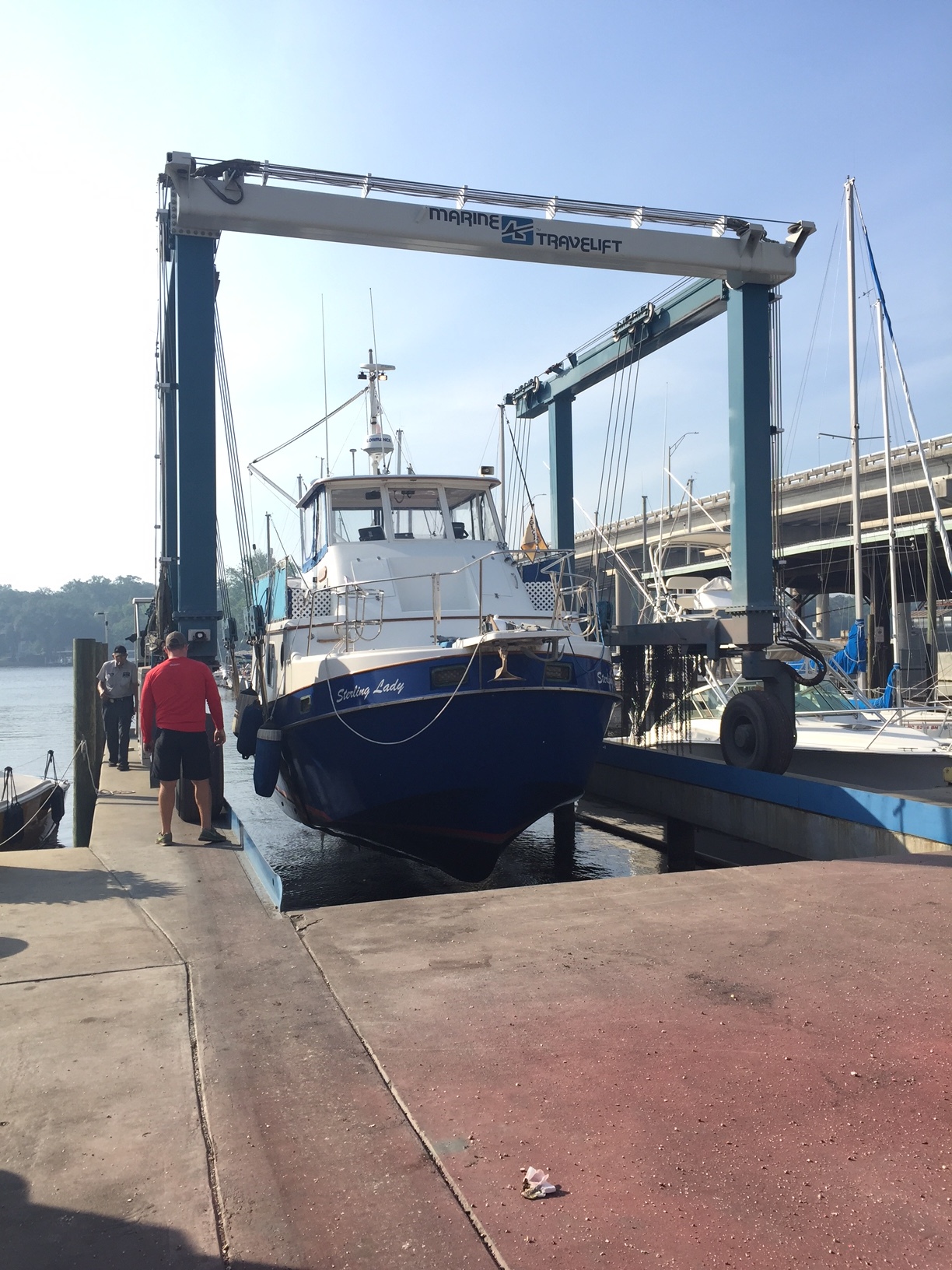 ​The previous owner kept the boat behind his house on the St. Johns river, and suprisingly, the bottom was quite clean. Just a thin layer of slime and growth. Easy to clean.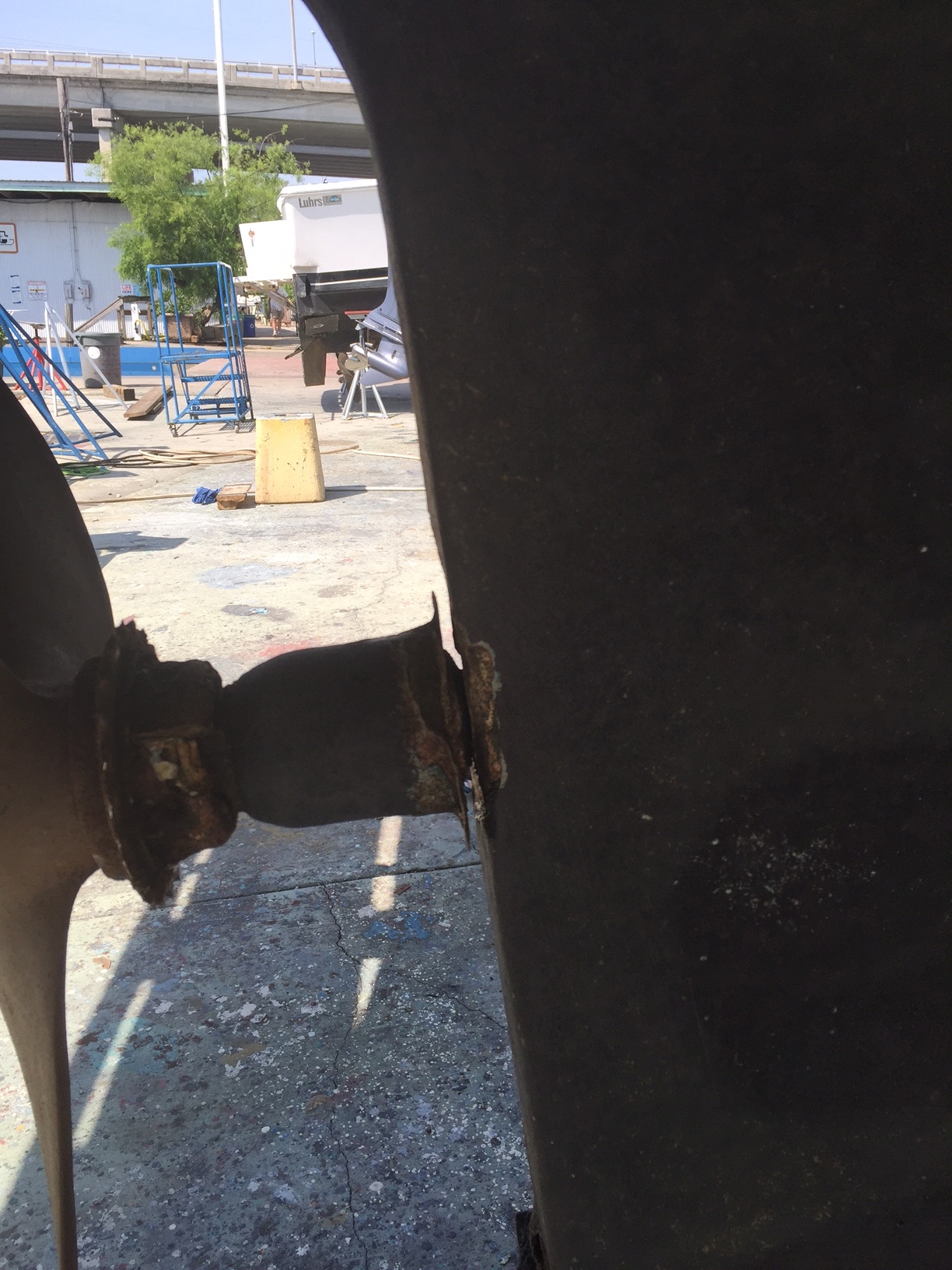 ​There was a $urpri$e however, the mount for the shaft had broken loose from the hull. 

​We had no vibration, and no indication there was a problem.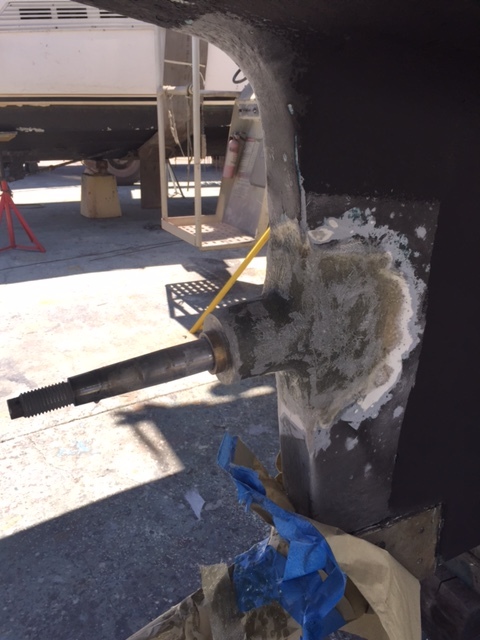 IT turned out to be an easy fix,  after a week and some  $$, we where spashed with a new bottom job and all fixed.

​Sadler Point Marina is great, very reasonalbe , and good work.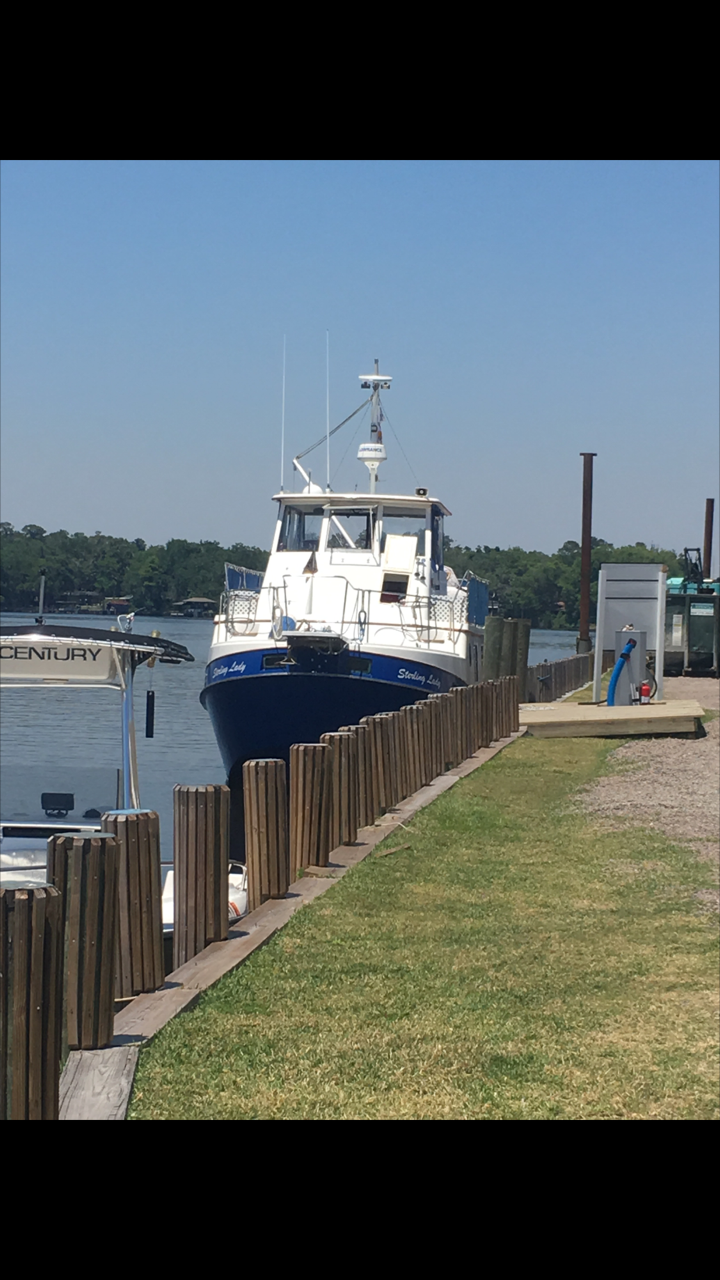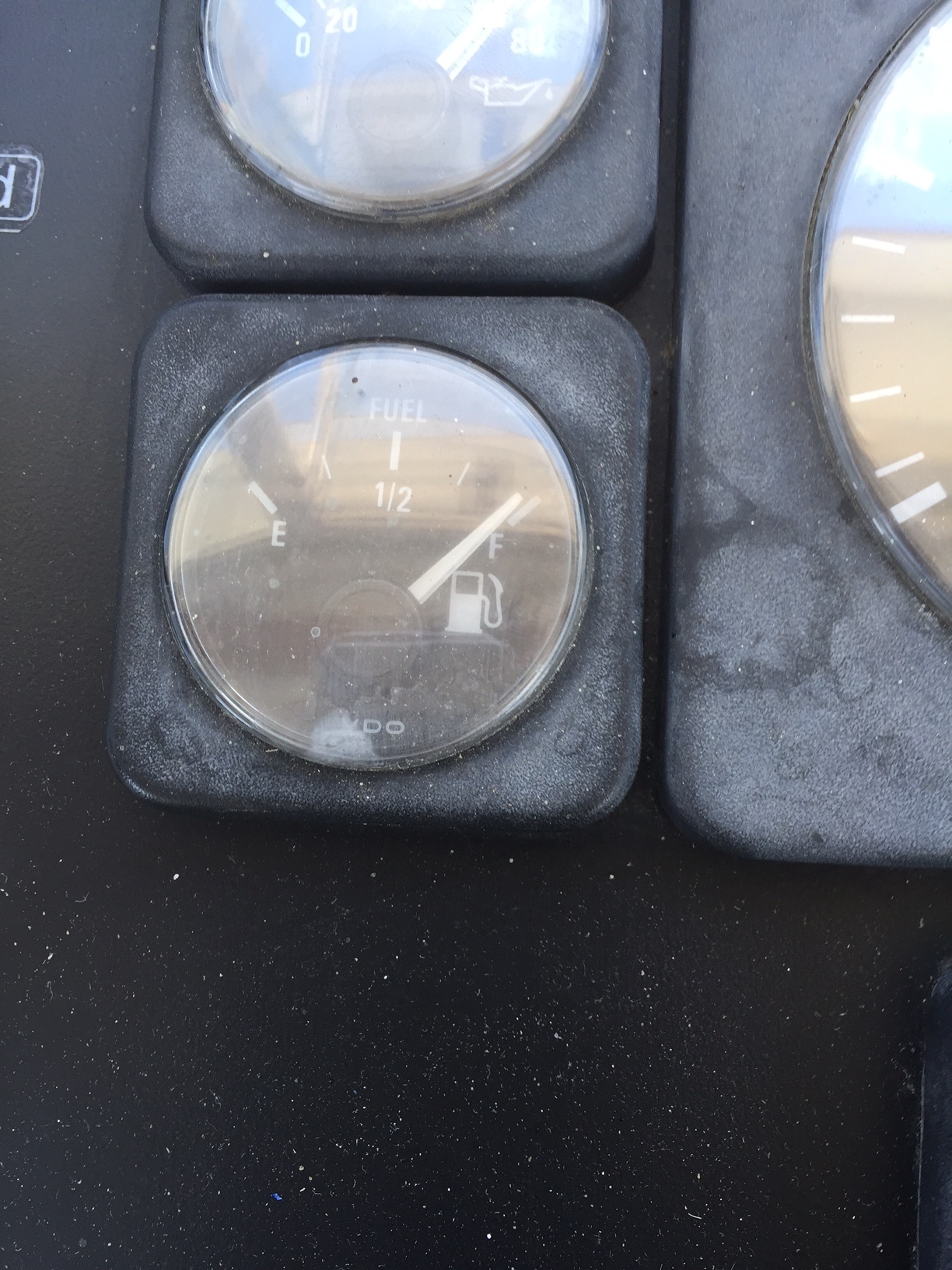 ​BTW, whenever you on the ST. JOhns river, stop at Docktors Lake Marina on Docktors lake for fuel.
​cheapest fuel I have found in Florida!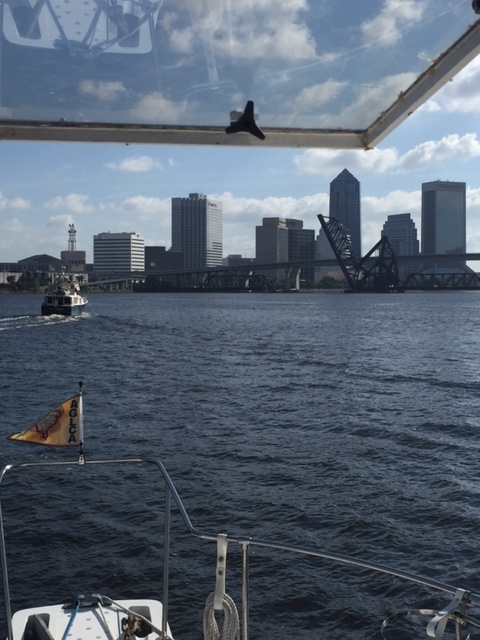 ​Jacksonville Florida waterfront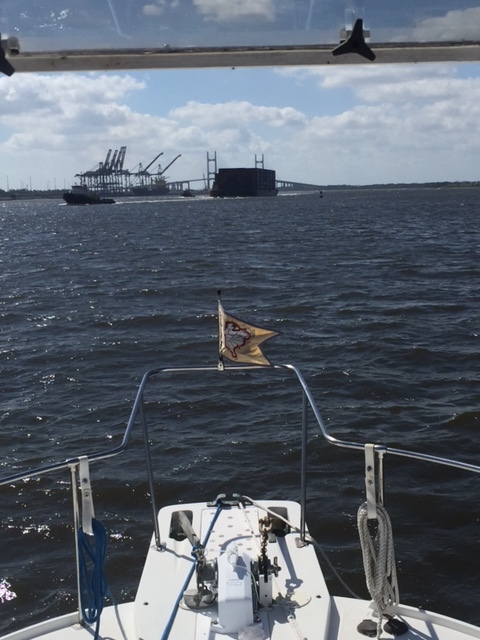 ​From Jacksonville, the 20 some miles to the icw,  is very commercial, lots of huge ships, tugs, car carriers, etc.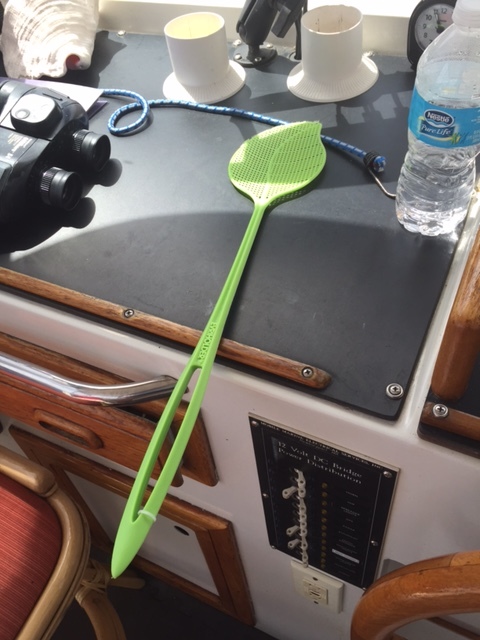 The horse flys where out, in droves.

​This is our semi automatic horse fly getter.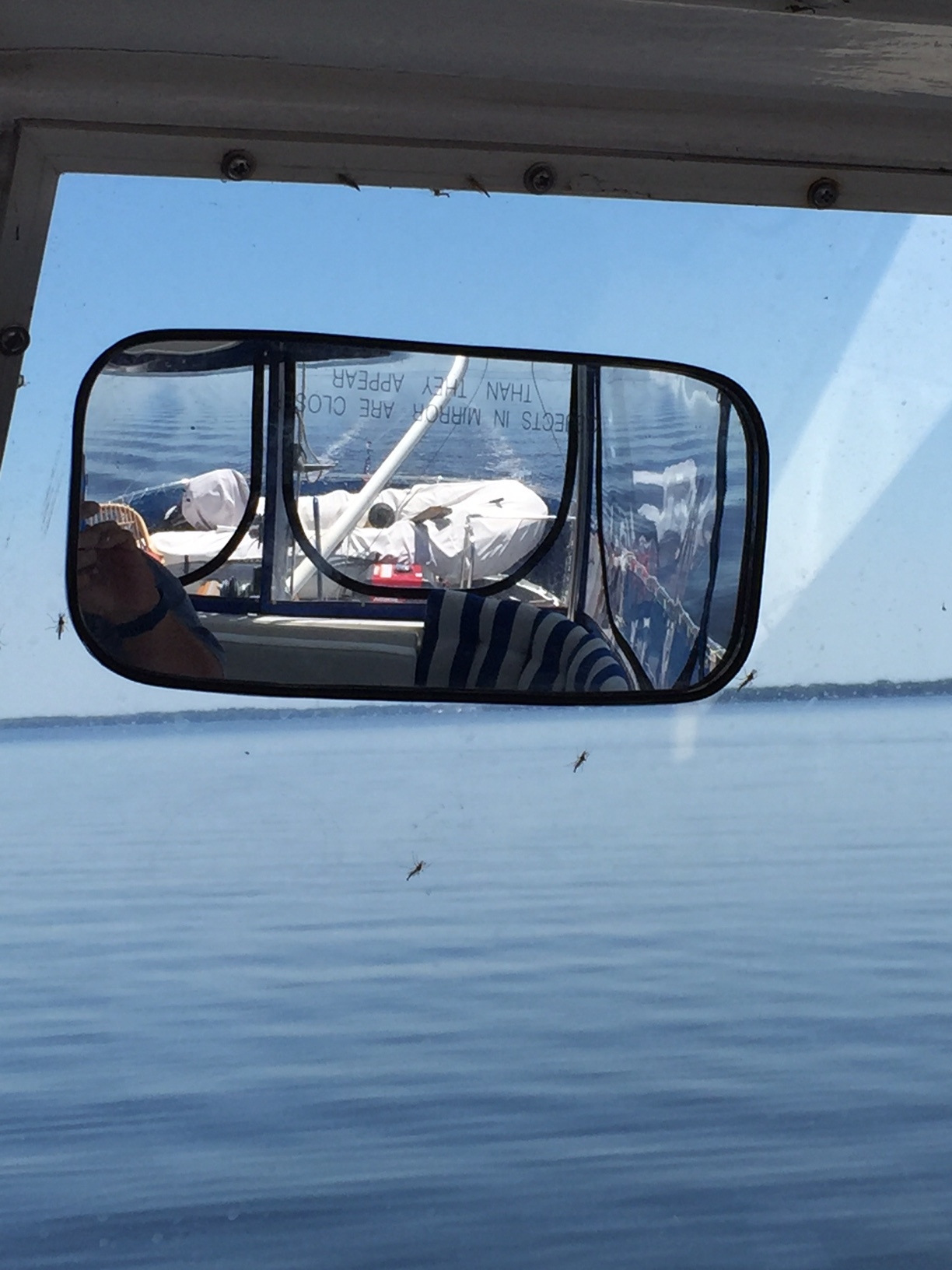 ​This was a very inexpensive addition to the brige, a suction cup rear view mirror.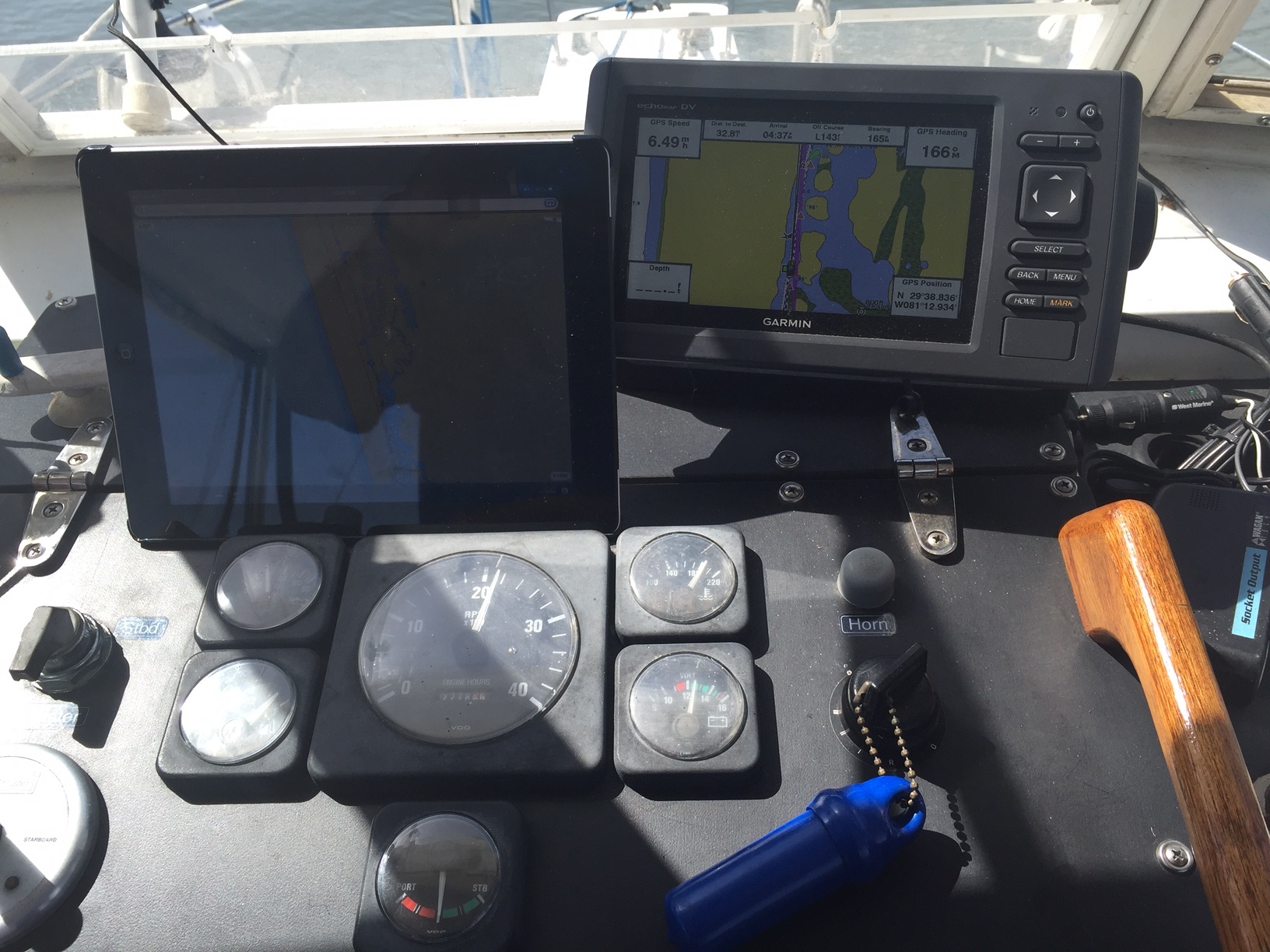 Gps and Ipad, what else could one want?

Sold all my paper charts about two years ago and never looked back.

I do have 3 gps chart plotters on boar however.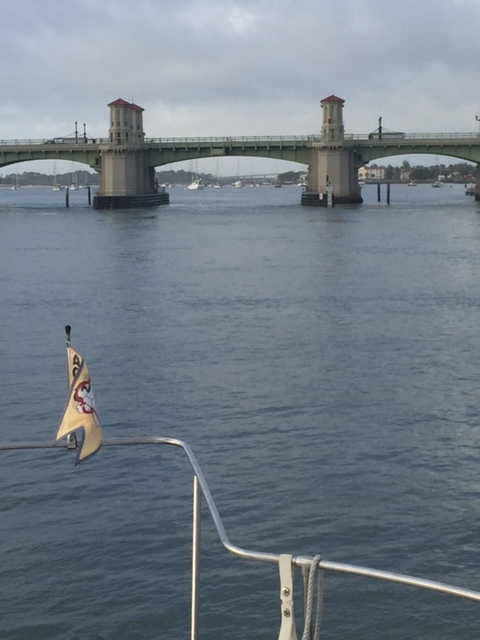 the new multi million dollar Brige of Lions, in ST. Autgustine, looks exactly like the old bridge of lions .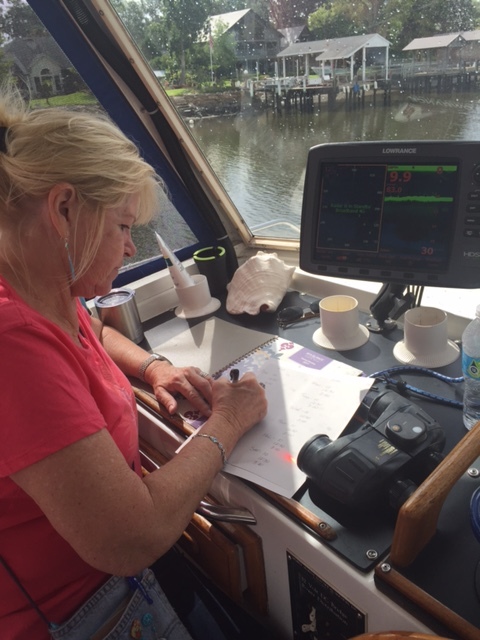 The Admiral, hard at work, at her work station with the million dollar view.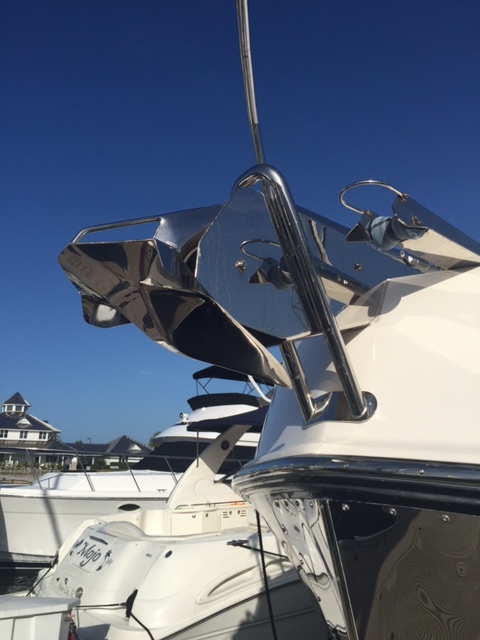 ​Seen at ST. Augustine City Marina, a guy who has a chrome plated anchor.

​Think he ever used it, not a scratch on it. Just for looks I suppose.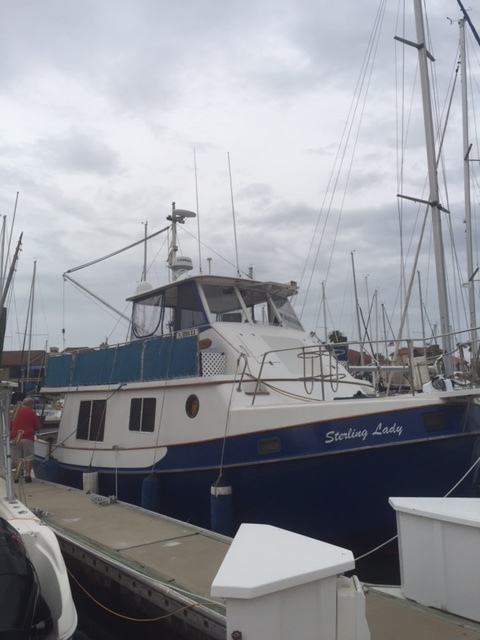 ​There a very nice floating docks at the St. Augustine City Marina, but the tidal currents can be a buger. depending on your dock location, we have to time the tides to work for us.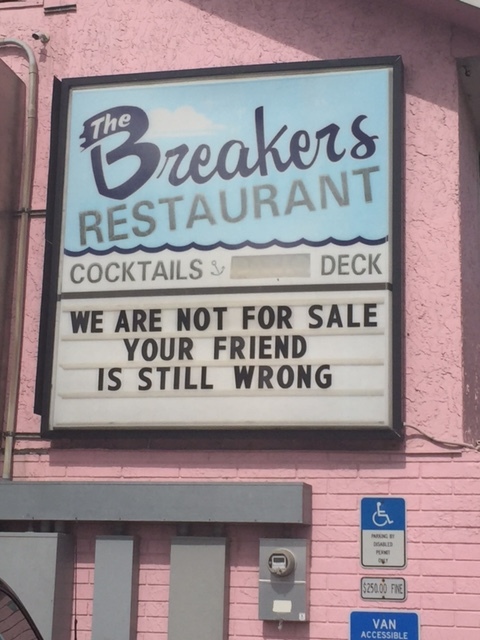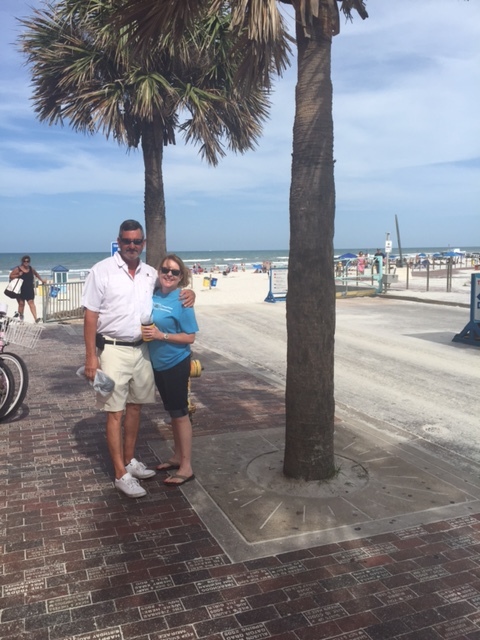 ​Tom and Lydia drove over to Fernandina Beach and met us. We did some down town "bar hopping"
​One bar, (which will remain namless) the bartender was really loaded. drinks where great!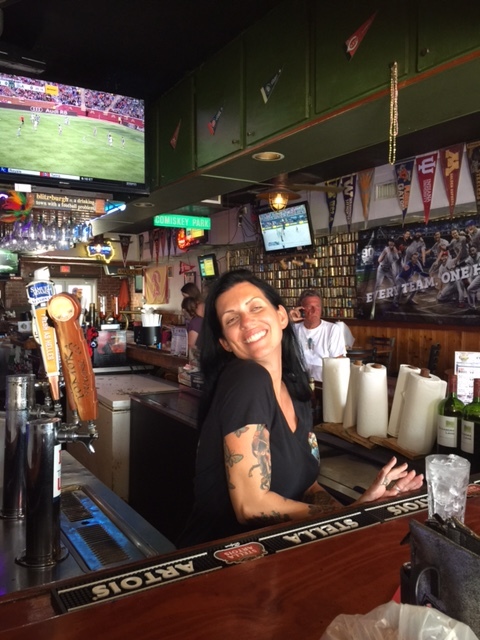 ​This is the bartender.  We went back a few hours later , and she was Ok. Guess she quit drinking.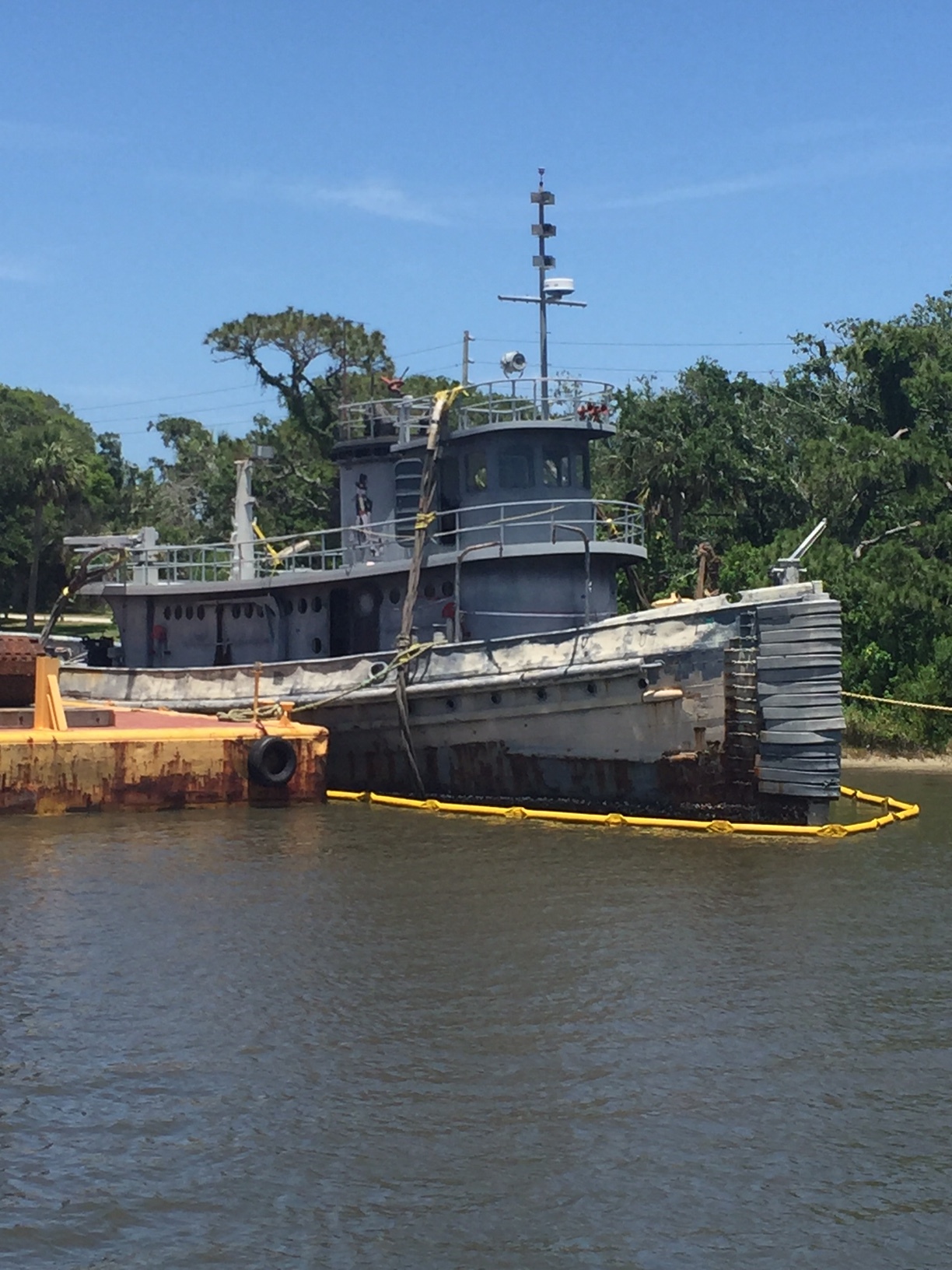 ​If you have traveled the ICW just north of Daytona, you have seen this old ww2 tug that's been sitting in this guys backyard for years and years.

​It has been donated to a marine museum and has been removed .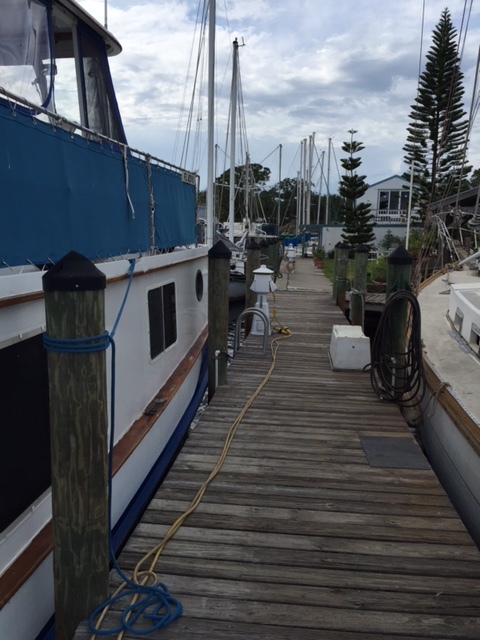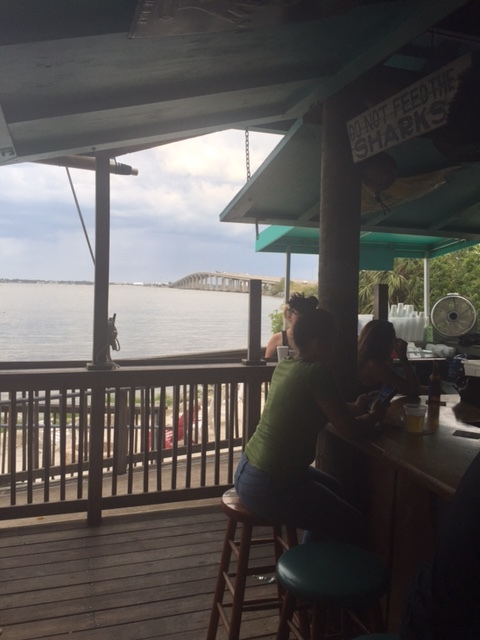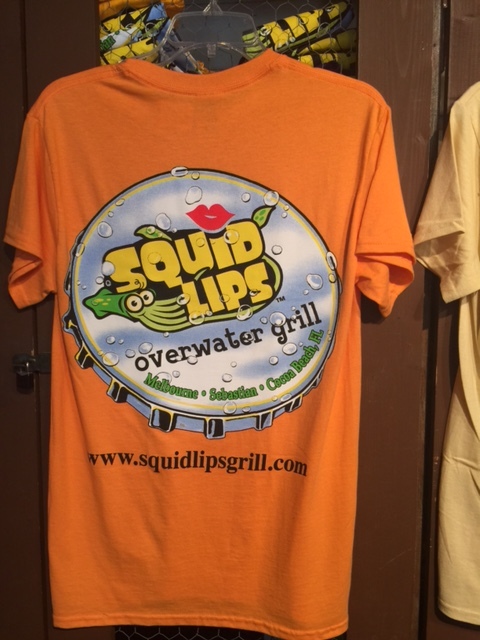 Every trip we make up and down the ICW, we always try and get a slip at Eau Gallie Marina.

It's got great prices, and fixed wooden docks, good power and walkagle to Squid Lips bar.

What else could you ask for?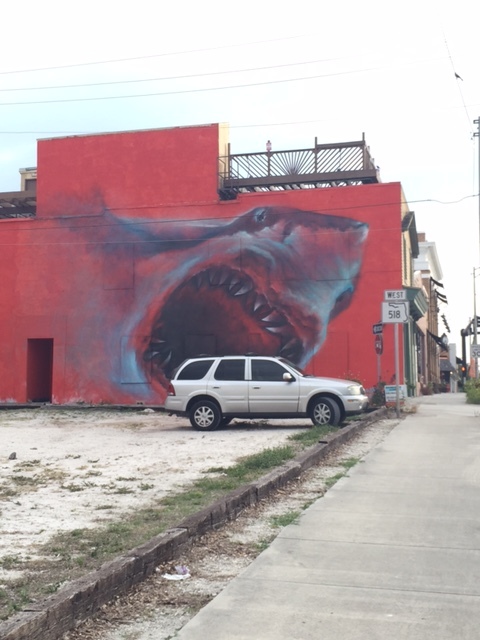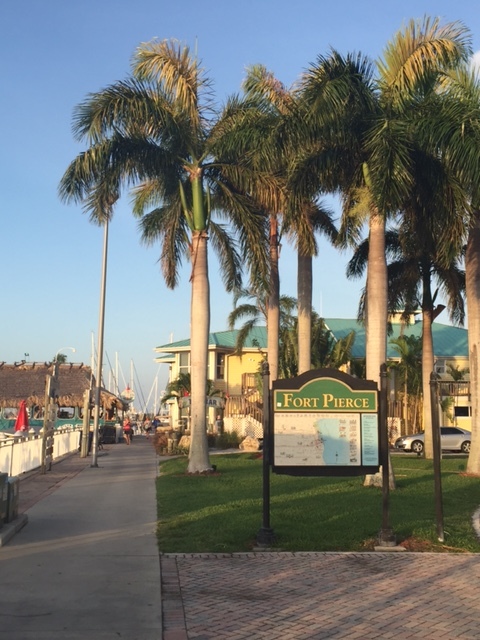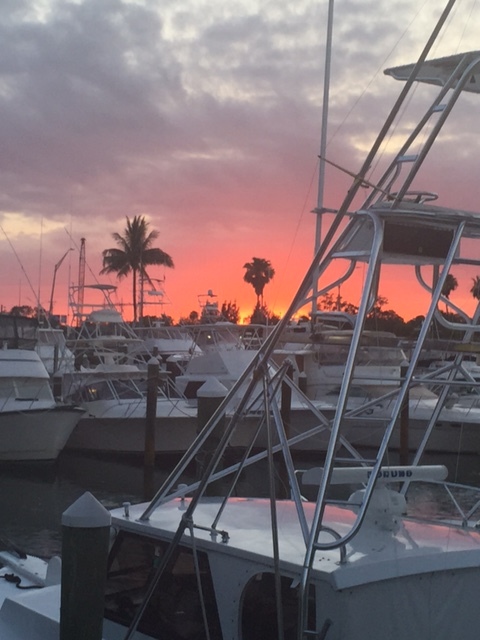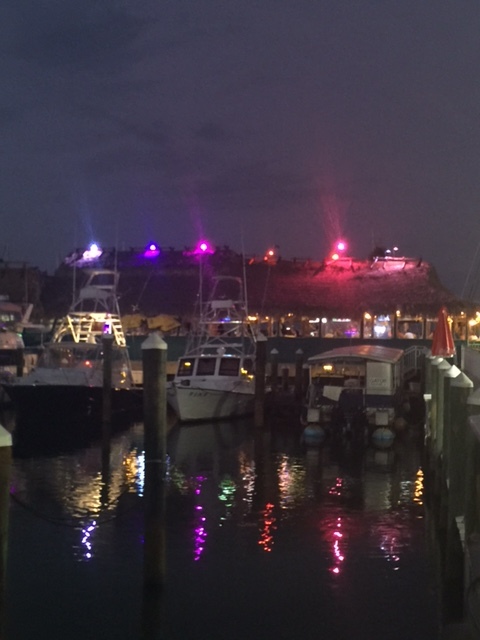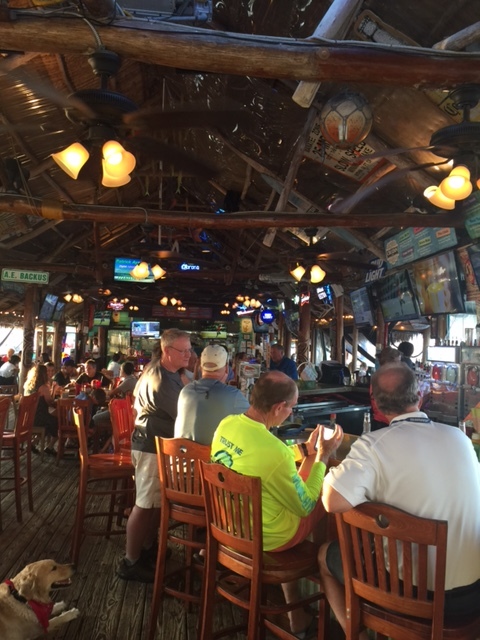 ​Ft. Pierce City Maria is another favorite stop of ours. 
​Lots to do,, nice docks, fun place.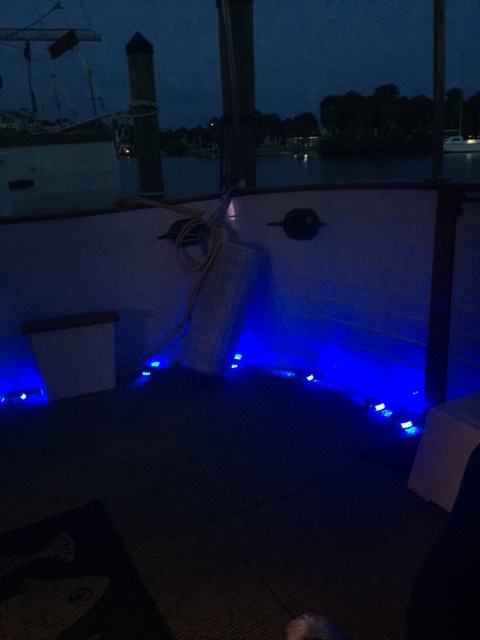 ​Found some Blue solar lights on Amazon,  nice ambiance at nite.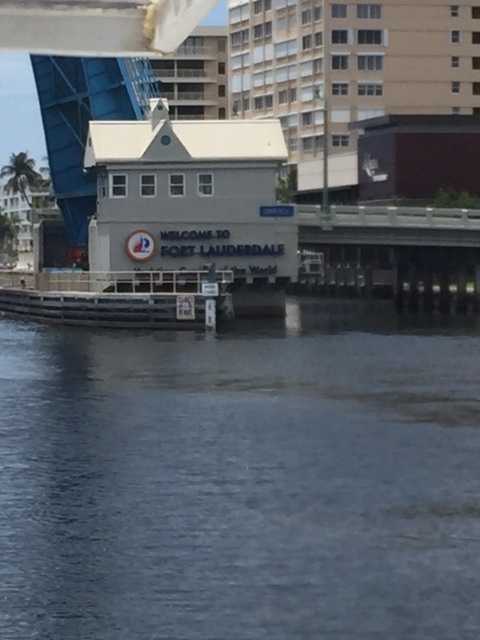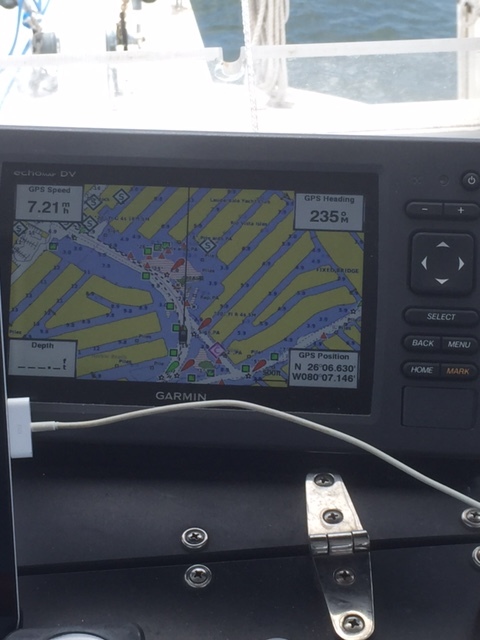 Ft. Licquordale does have a lot of canals.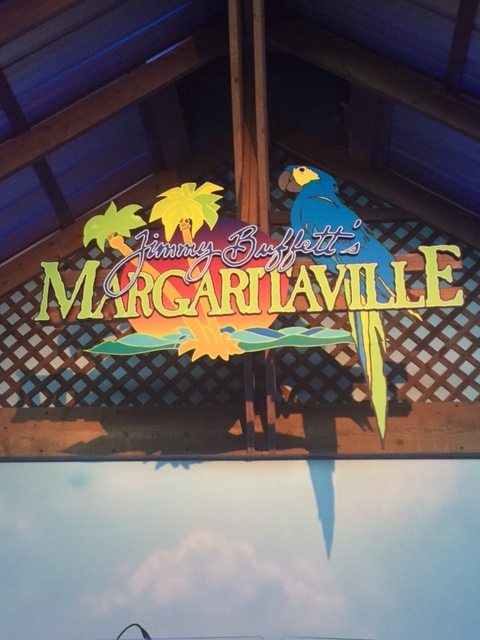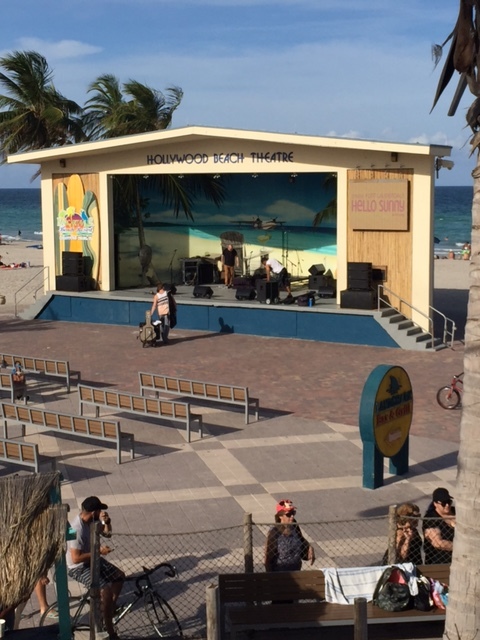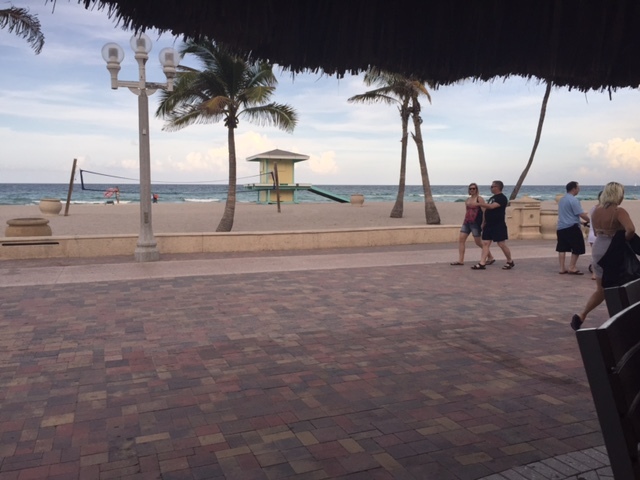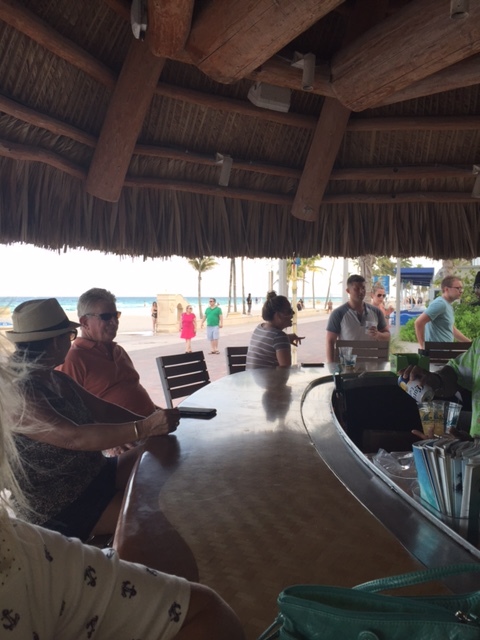 ​Every trip thru Ft. lauderdale, the admiral makes us stop at Hollywood Marina, so we can go to Margaritaville.
​Jimmy does value his rum!!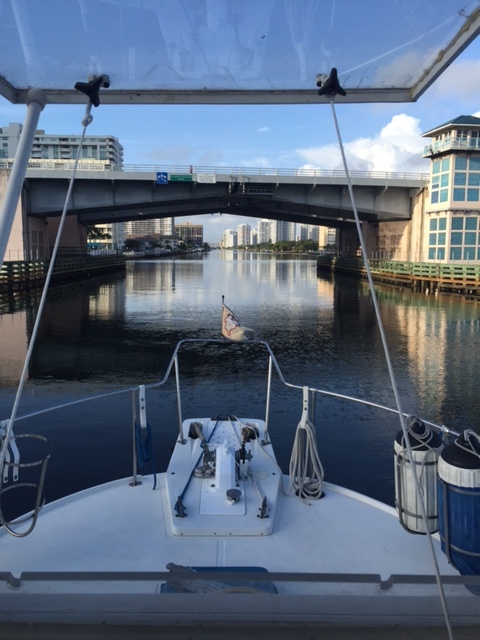 Leaving Hollywood you enter the condo canyons of 

​Miami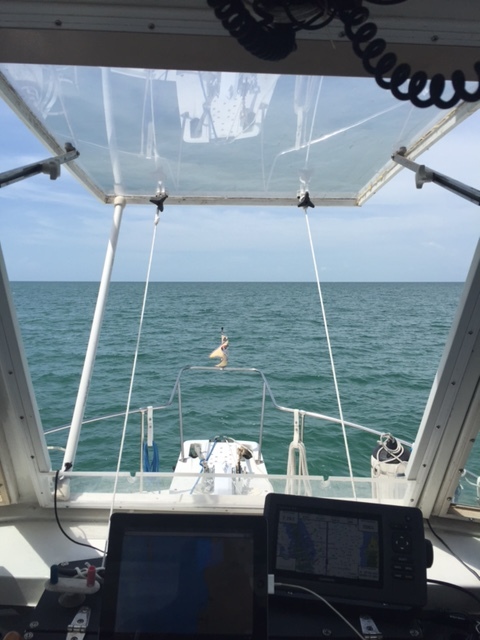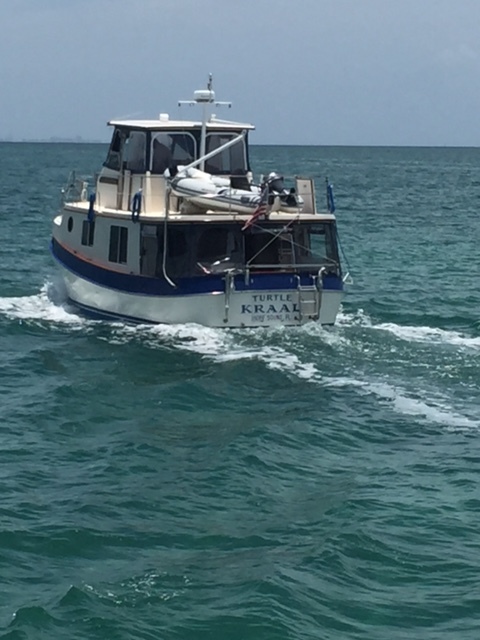 Passed north bound "Turtle Kraal", one of only 99 krogen manatees ever made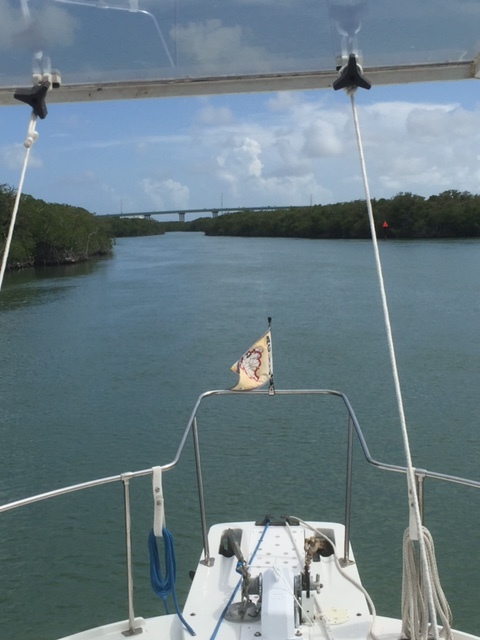 ​Jewfish Creek Bridge ahead, gateway to the Florida Keys!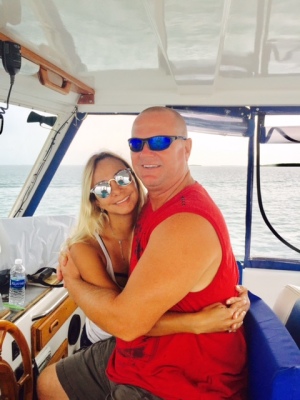 ​This year we are cruising around the state of fl.
​After a few days of r and r, we left key largo, heading to Marathon.
​Stue and his wife joined us for a day.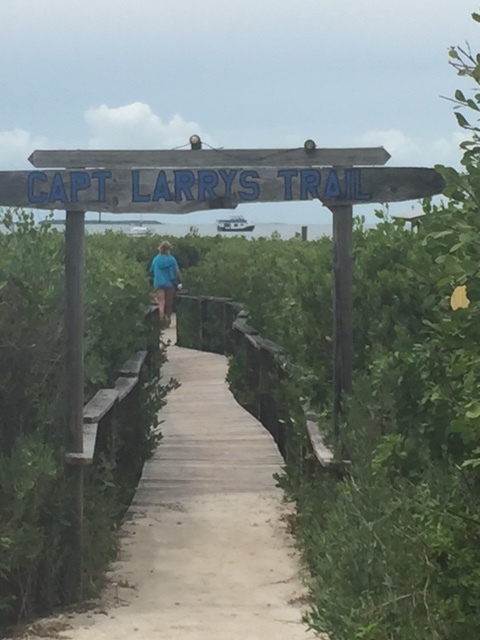 As per our usual, we anchored off the

Ocean View ( which has no view of the ocean) great place for a swim in their pool and lunch.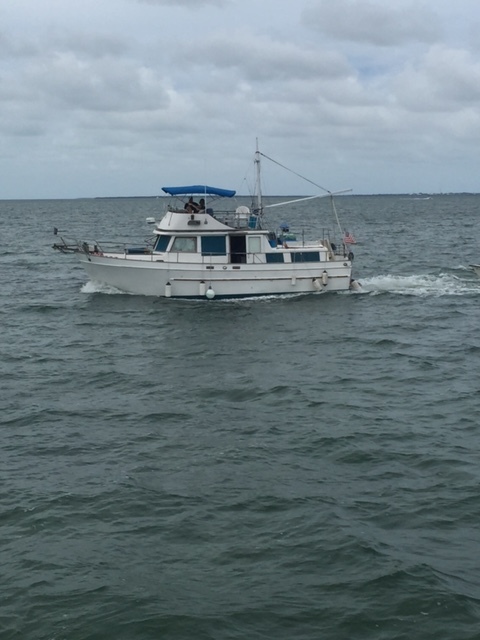 We are following our Key Largo Friends Billy and "Kitty on Bill's first aid Kit" 

​We will cruise with them for a few days.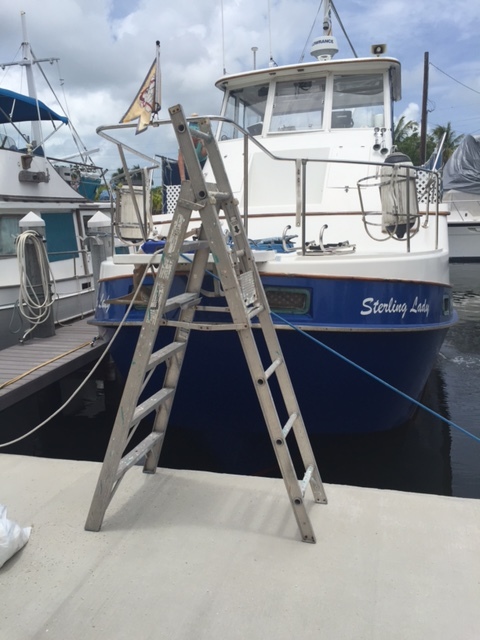 ​This is one thing we don't like on the Krogen Manatee, on low fixed docks with short finger, the boat design can make it tough to get off.

​Thank God the dockmaster had a ladder.

​Next time we will back in.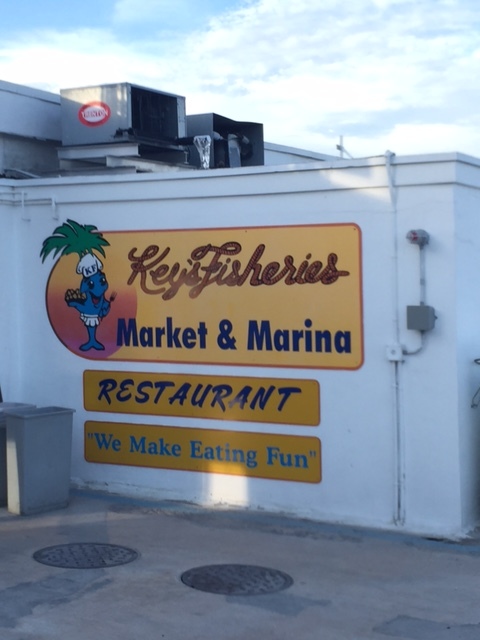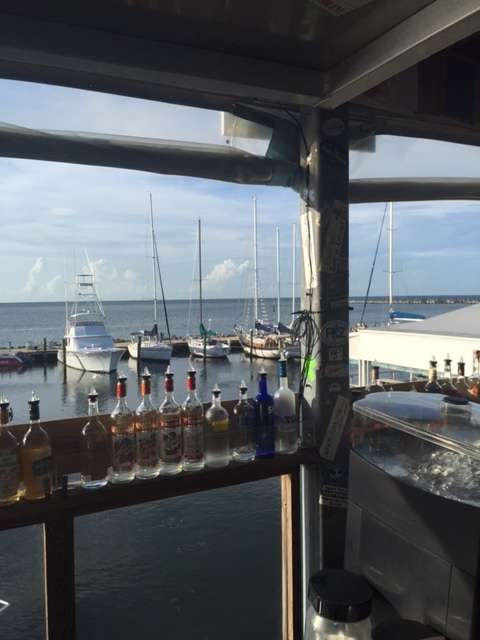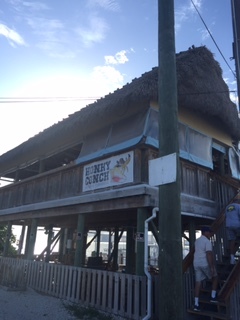 Capt Jim Bourbon, a Tarpon Fishing Guide in Marathon, and old friend, picked us up and took us to the Keys Fishery Bar, a local watering hole.

Hard to find but worth the effort.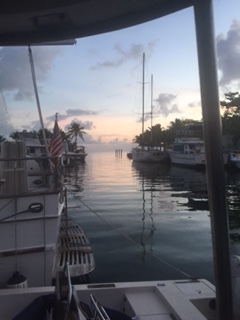 After a few play days in marathon, it was time to head for points North.

We got an early morning depature for our gulf crossing.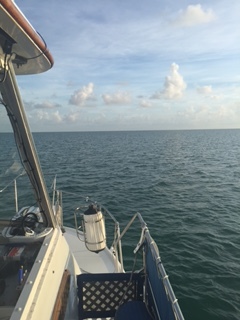 it was a pretty calm day this am in the gulf.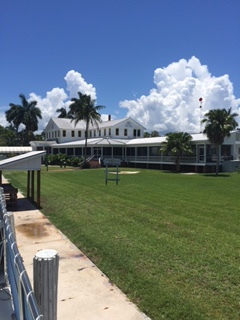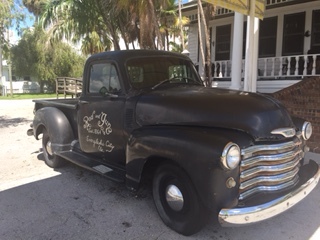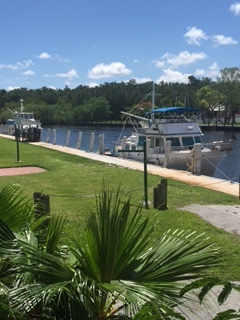 ​We where the only two boats at the Rod and Gun club in Everglade City, we had the whole place to ourselves.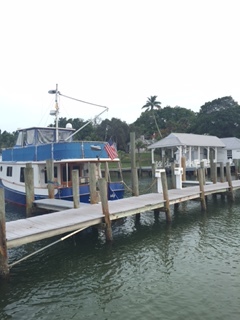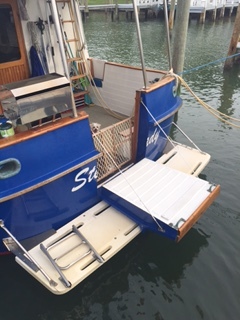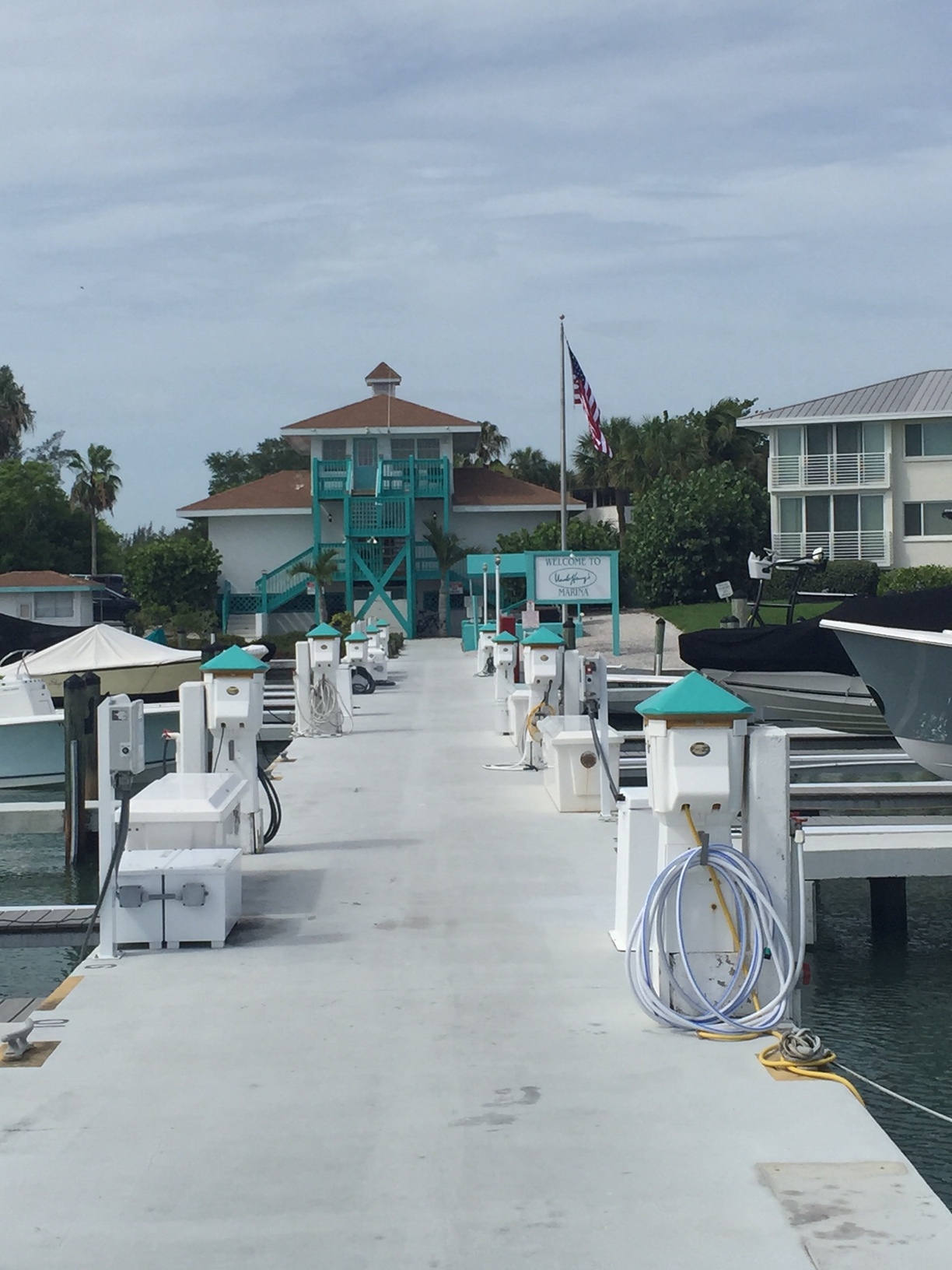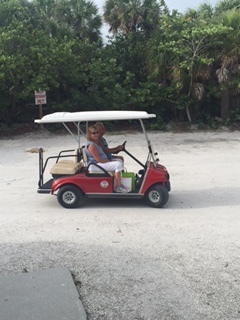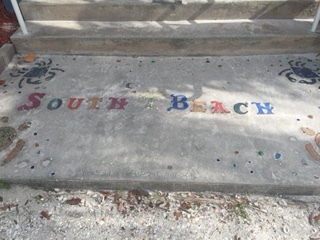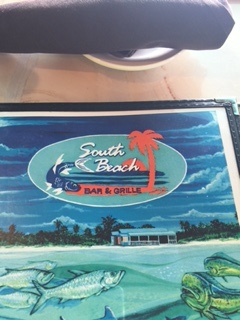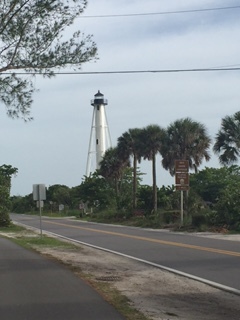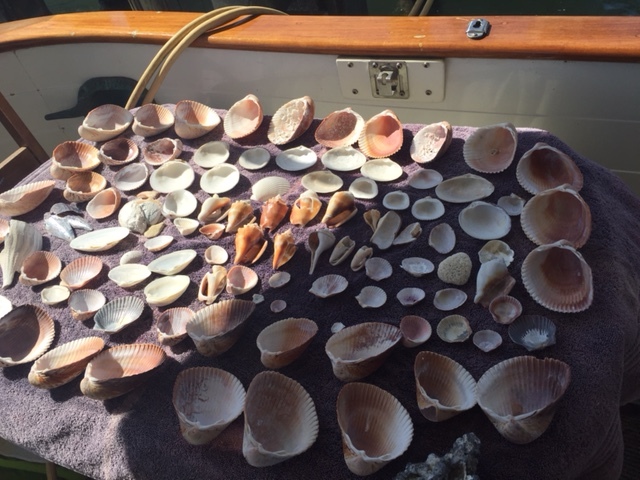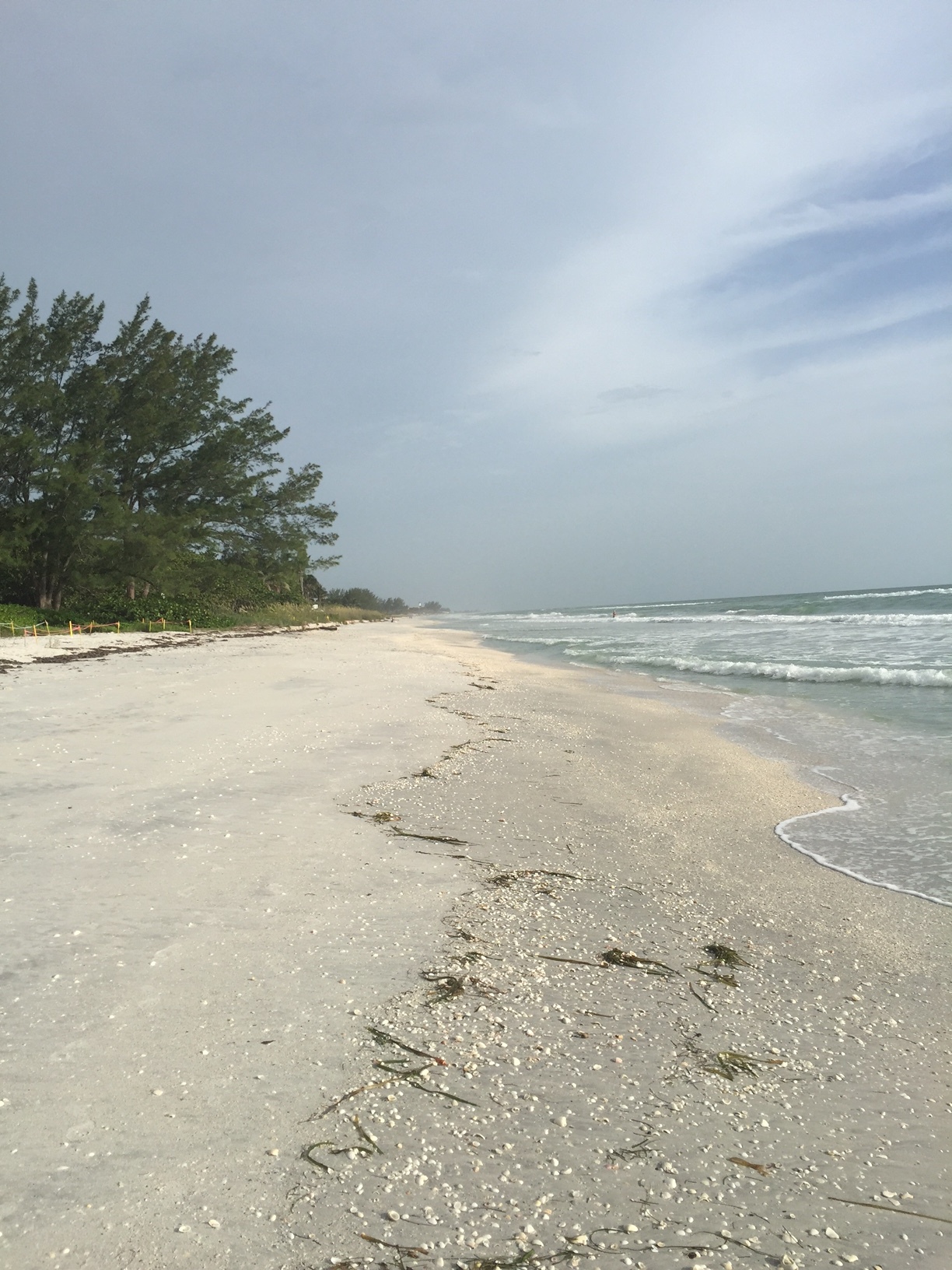 We Followed Billy and KItty up to Uncle Henerys Marina, and spend a few days with them exploring the island and beached in thier Dink and Rented Golf Cart.

​Went to South beach for dinner, and did lots of shelling.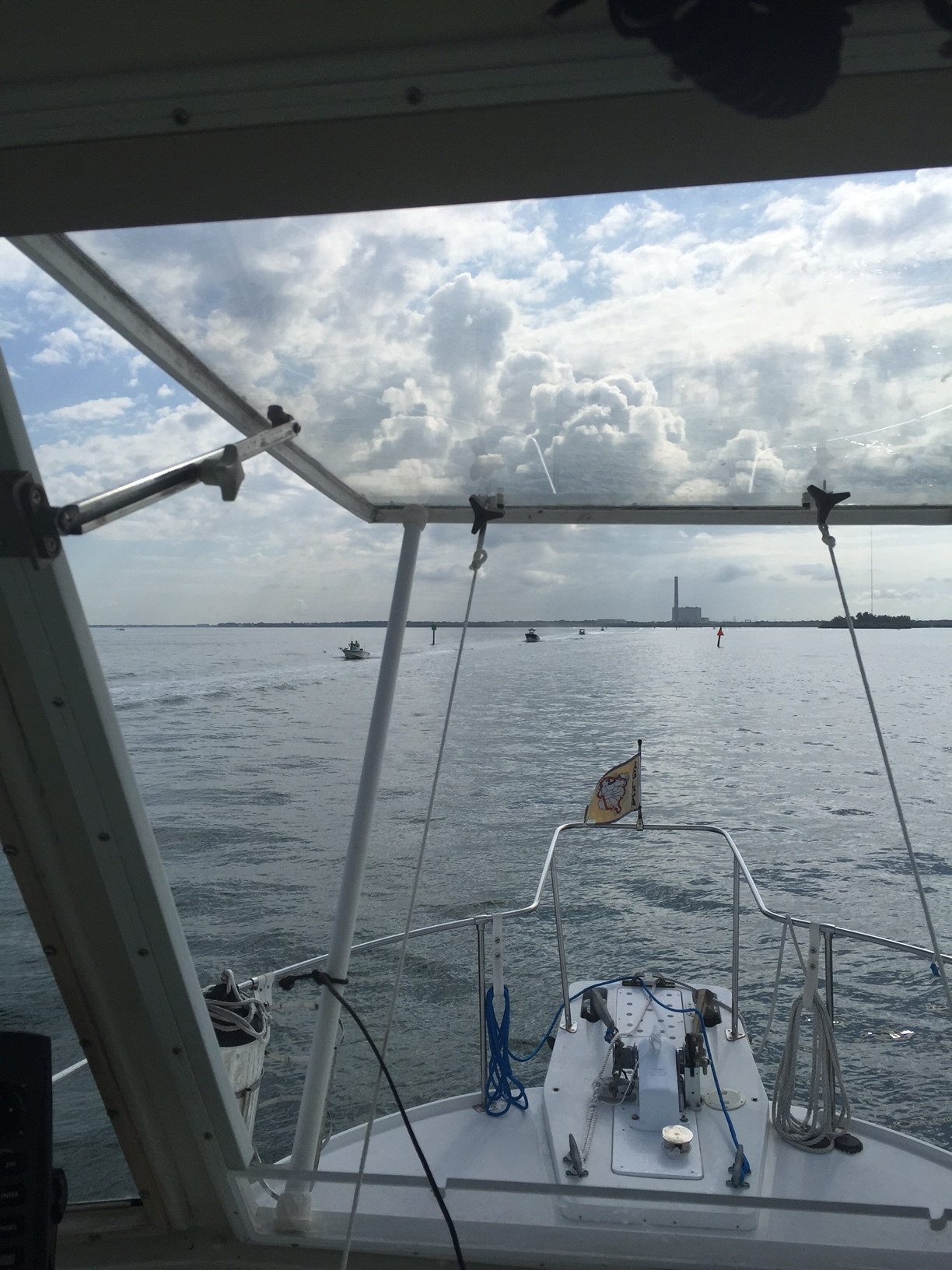 ​I have been to TArpon Srpings many times, but the admiral had not. So we planed to stop and stay for a few days to take up the sights.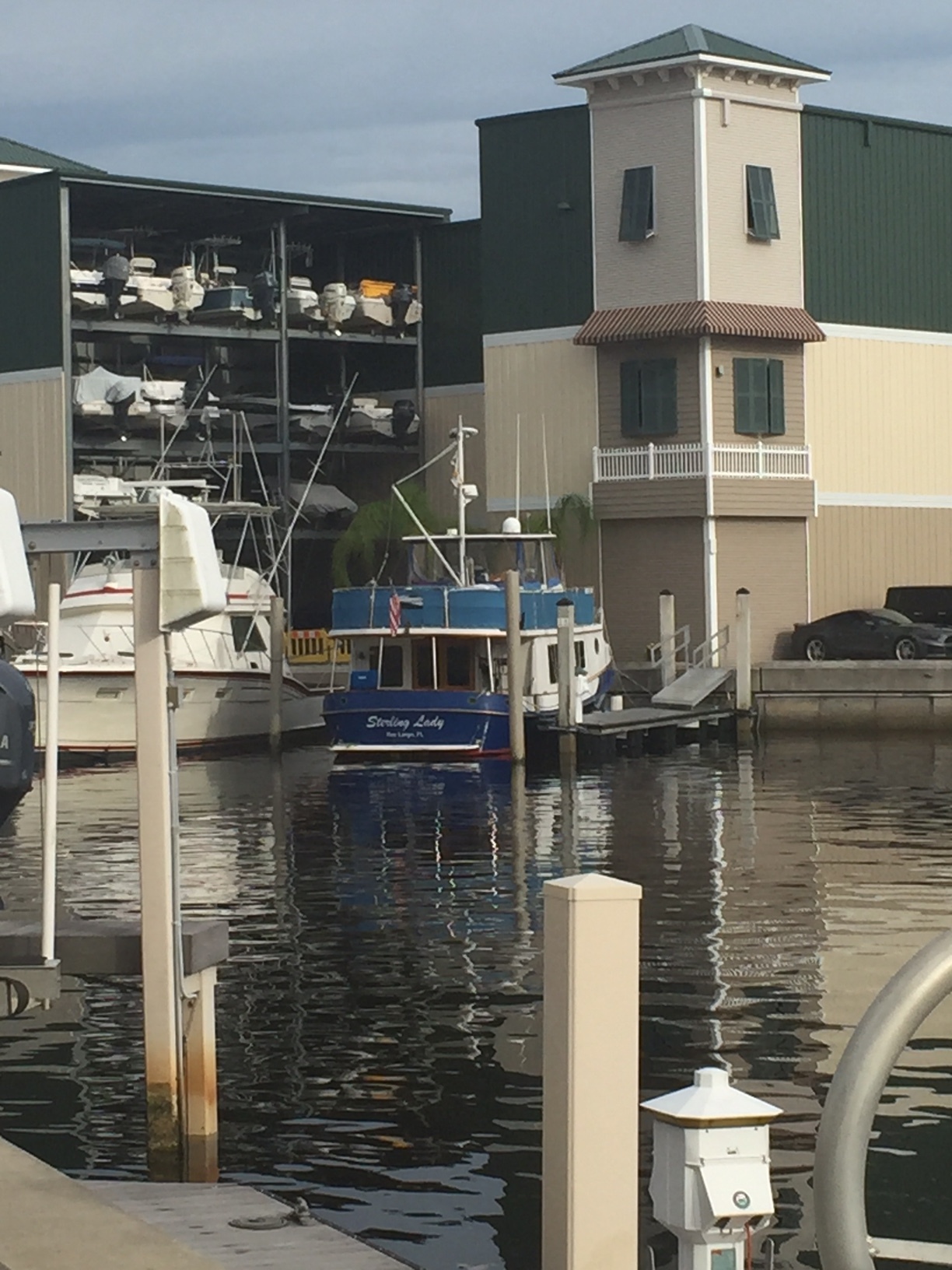 Got us a nice slip at turtle cove, walable to town.

But soon discovered we don't care for greek food and it was all pri$ed for Tourist$

We left the secound day.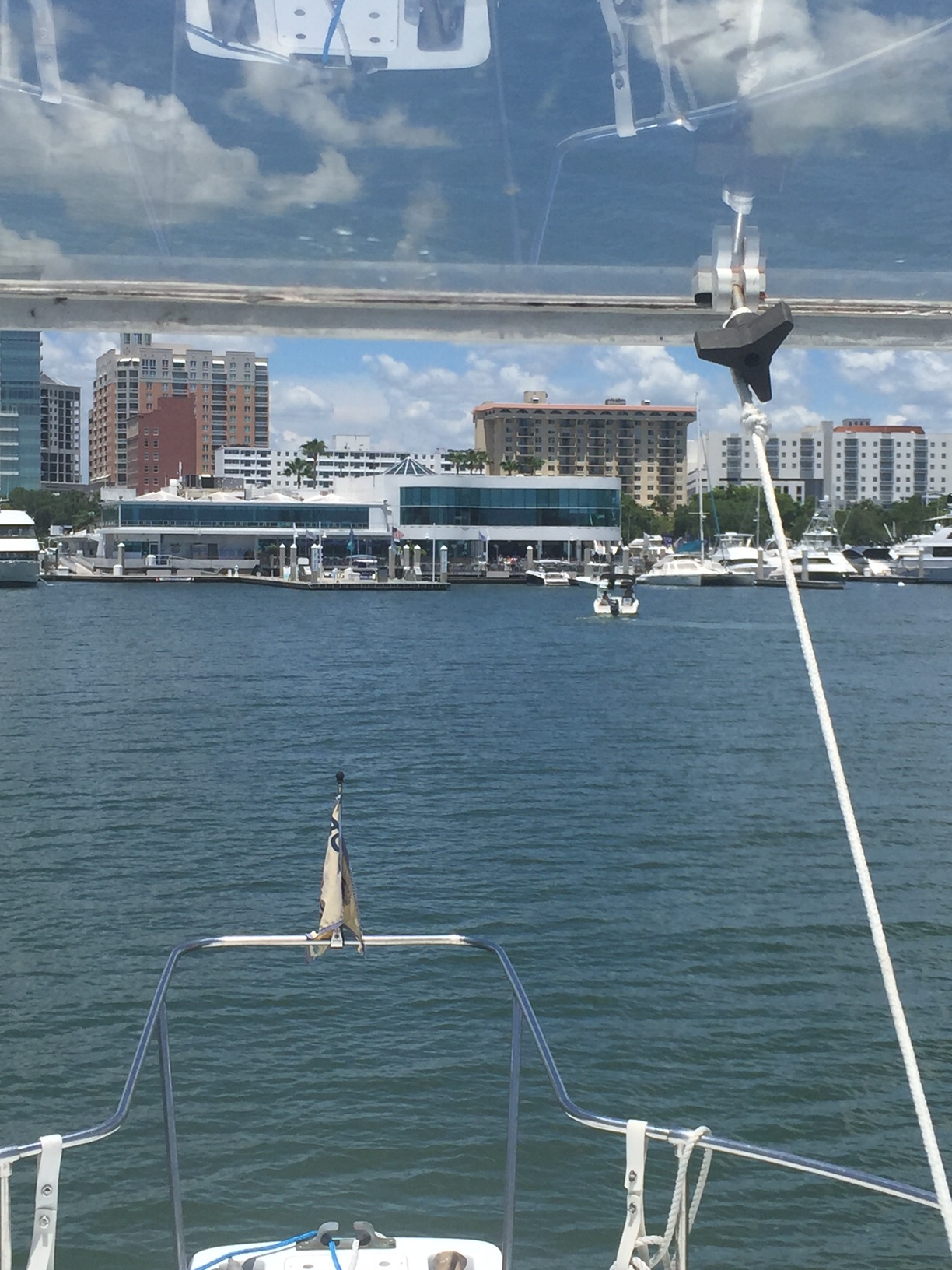 We did stop here a Marina Jacks in Sarasota,, quite expesive, nice but pricey.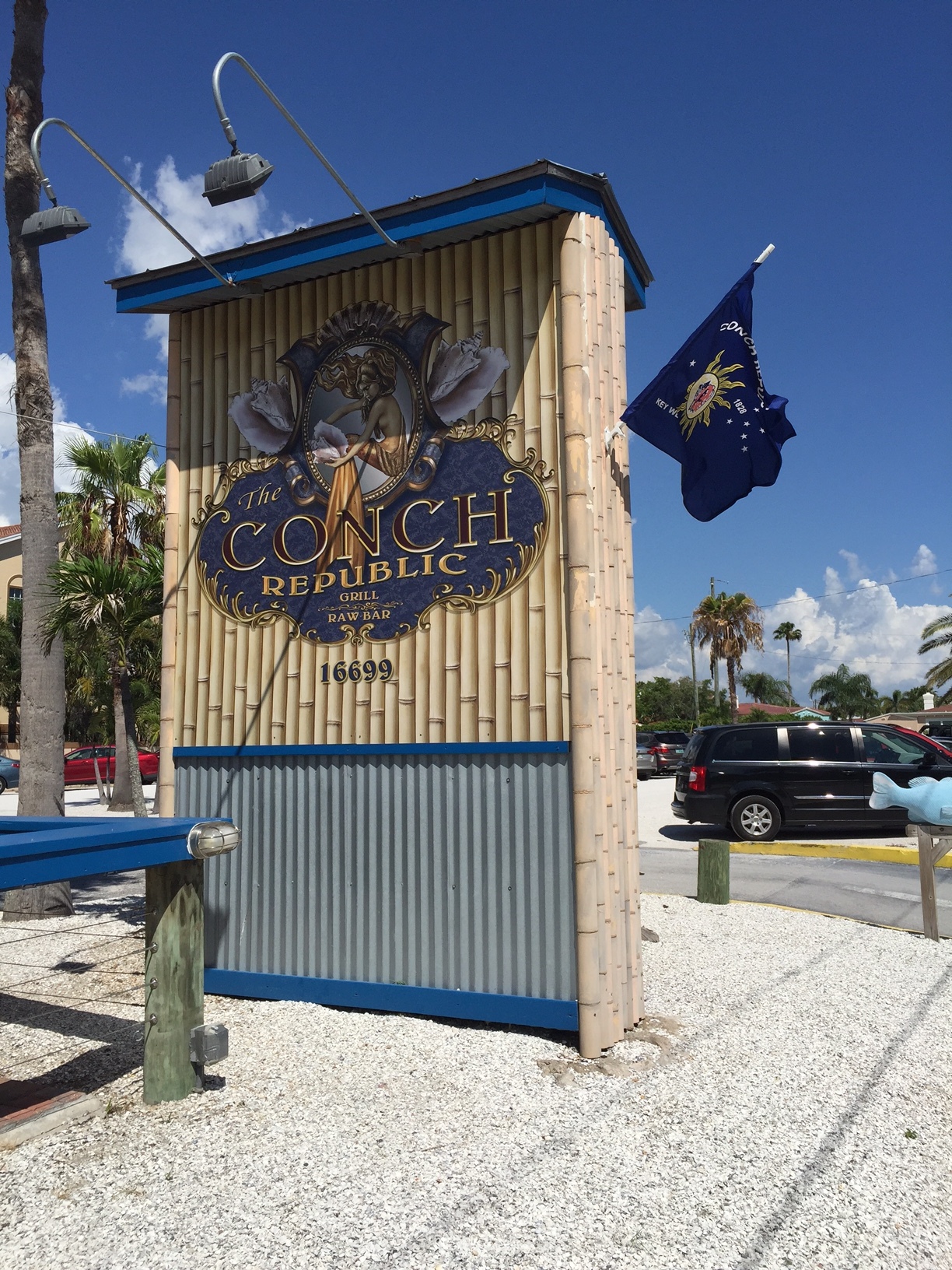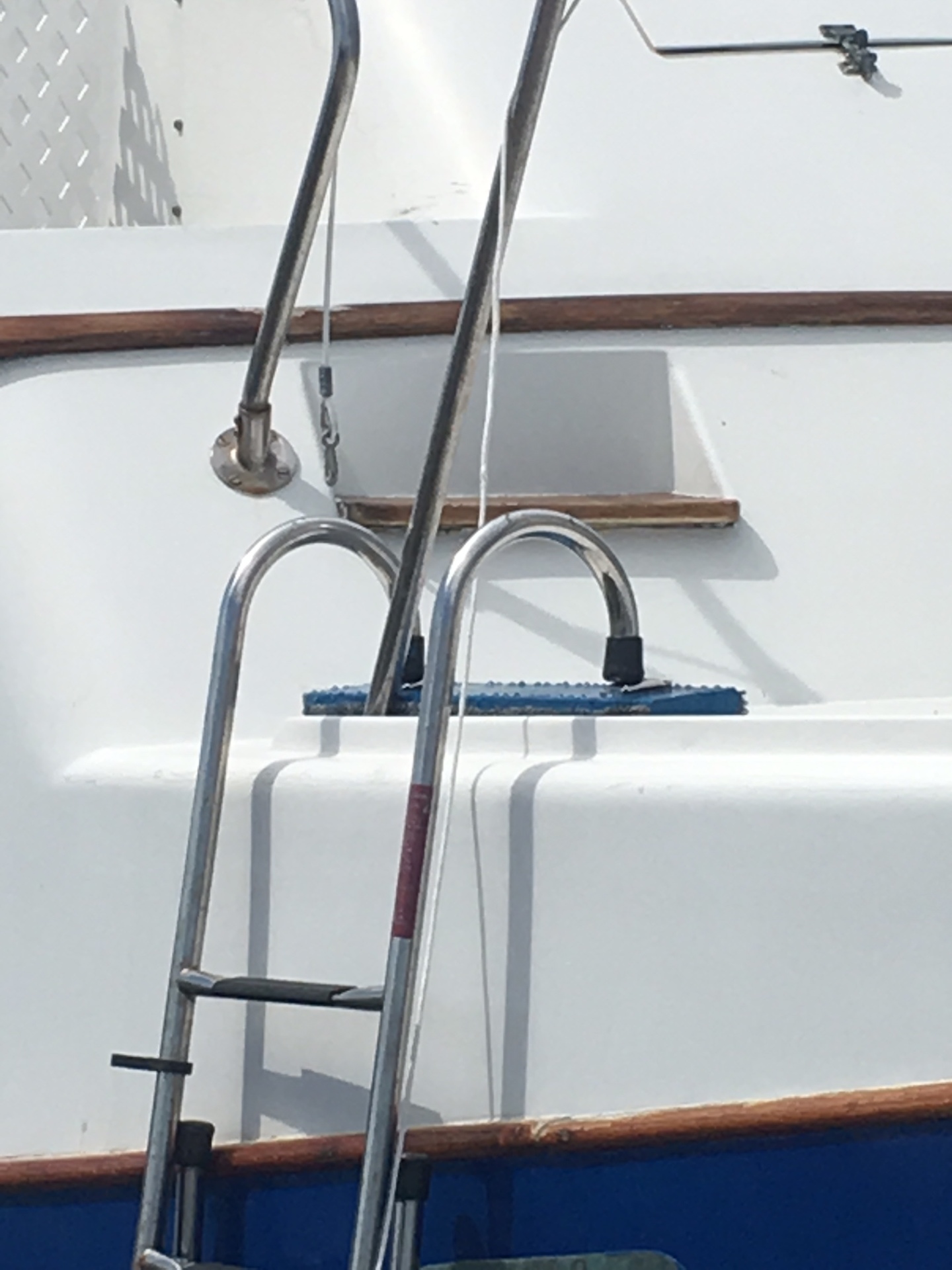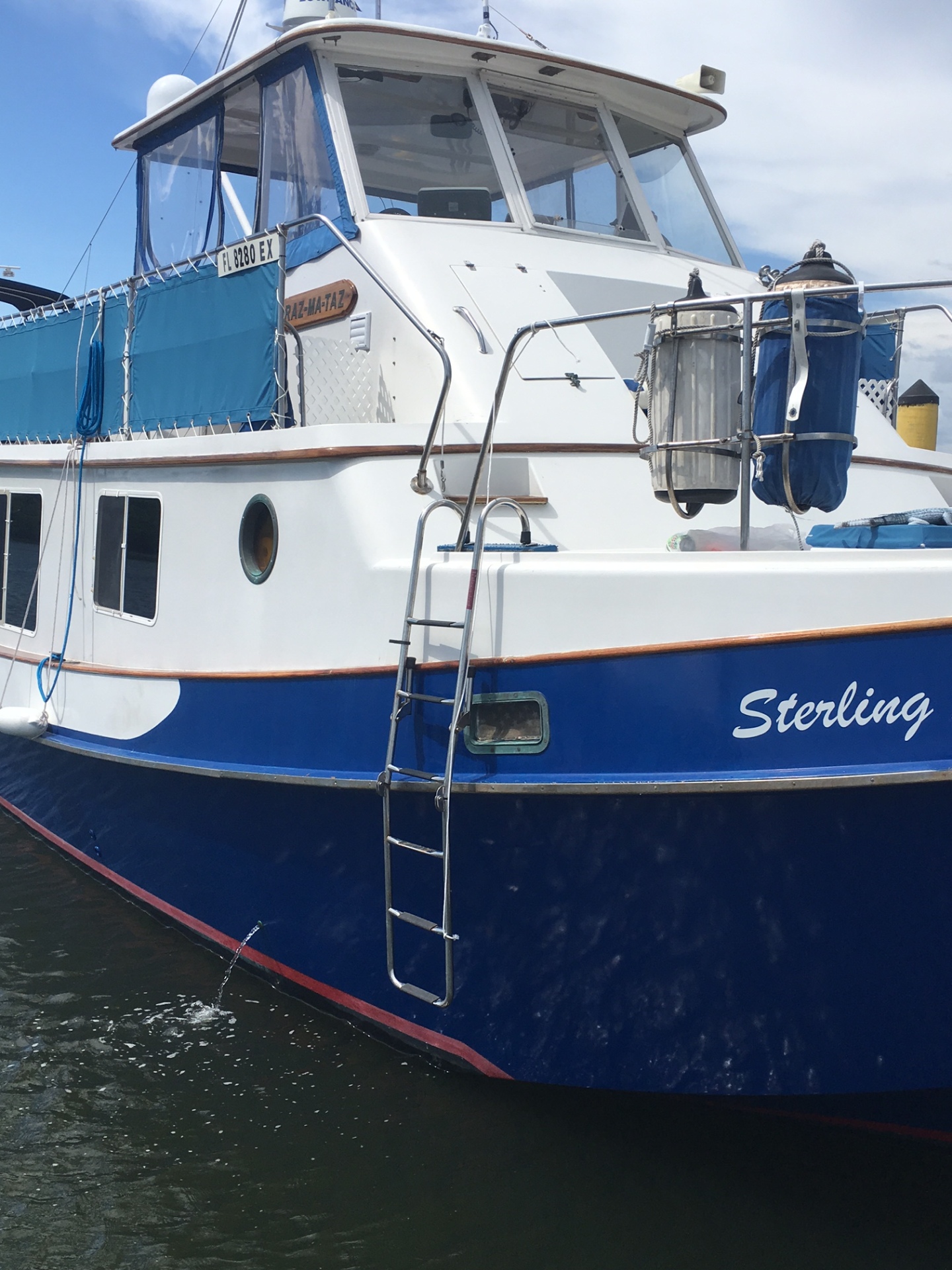 ​If your one of the Luck  99 Krogen Manatee owners, you will appriciate this ladder design I did to get off the bow on low docks.
​the latter is only attached to the carpet wraped wood, the lip and stanction prevent it from moving.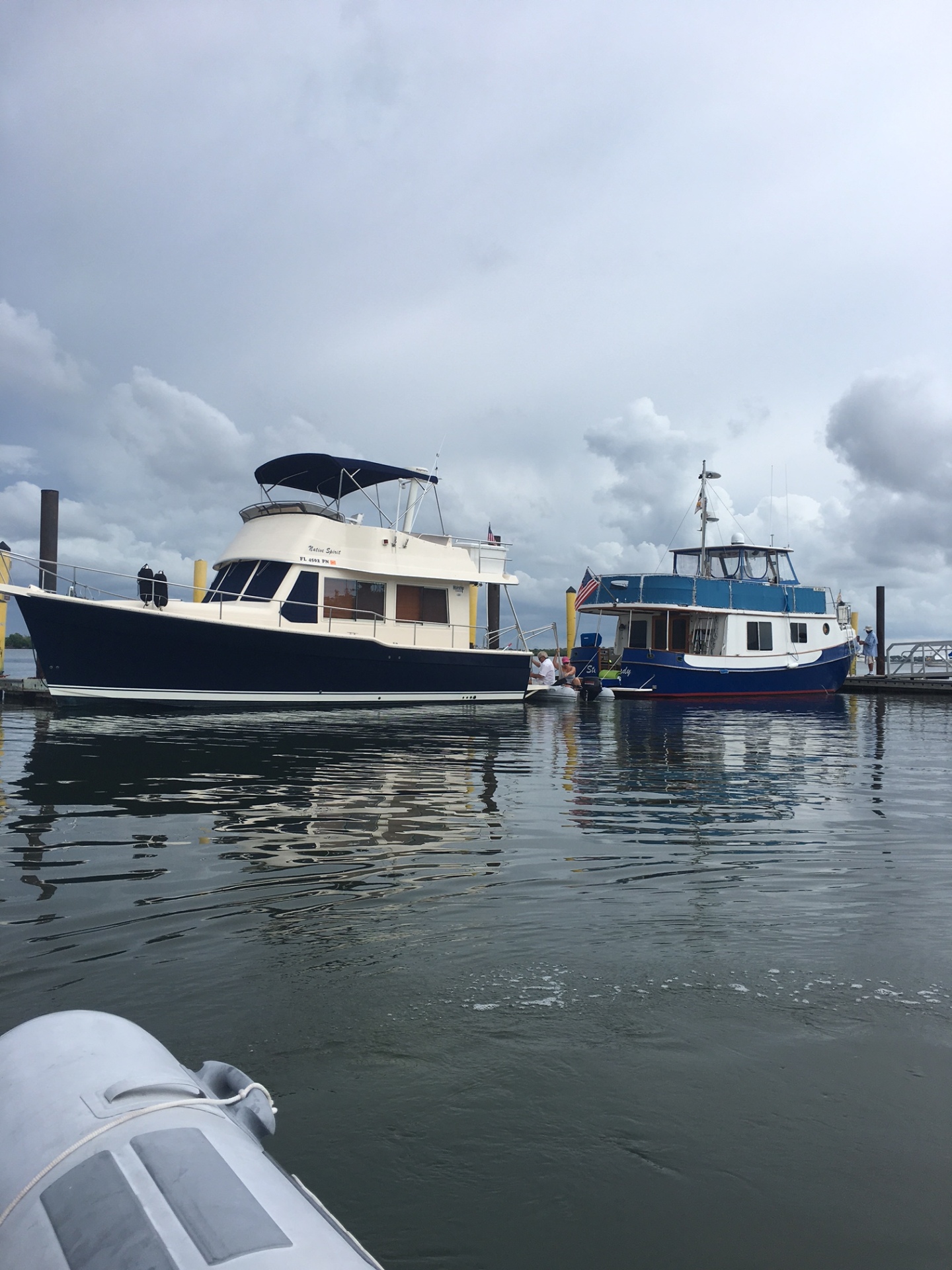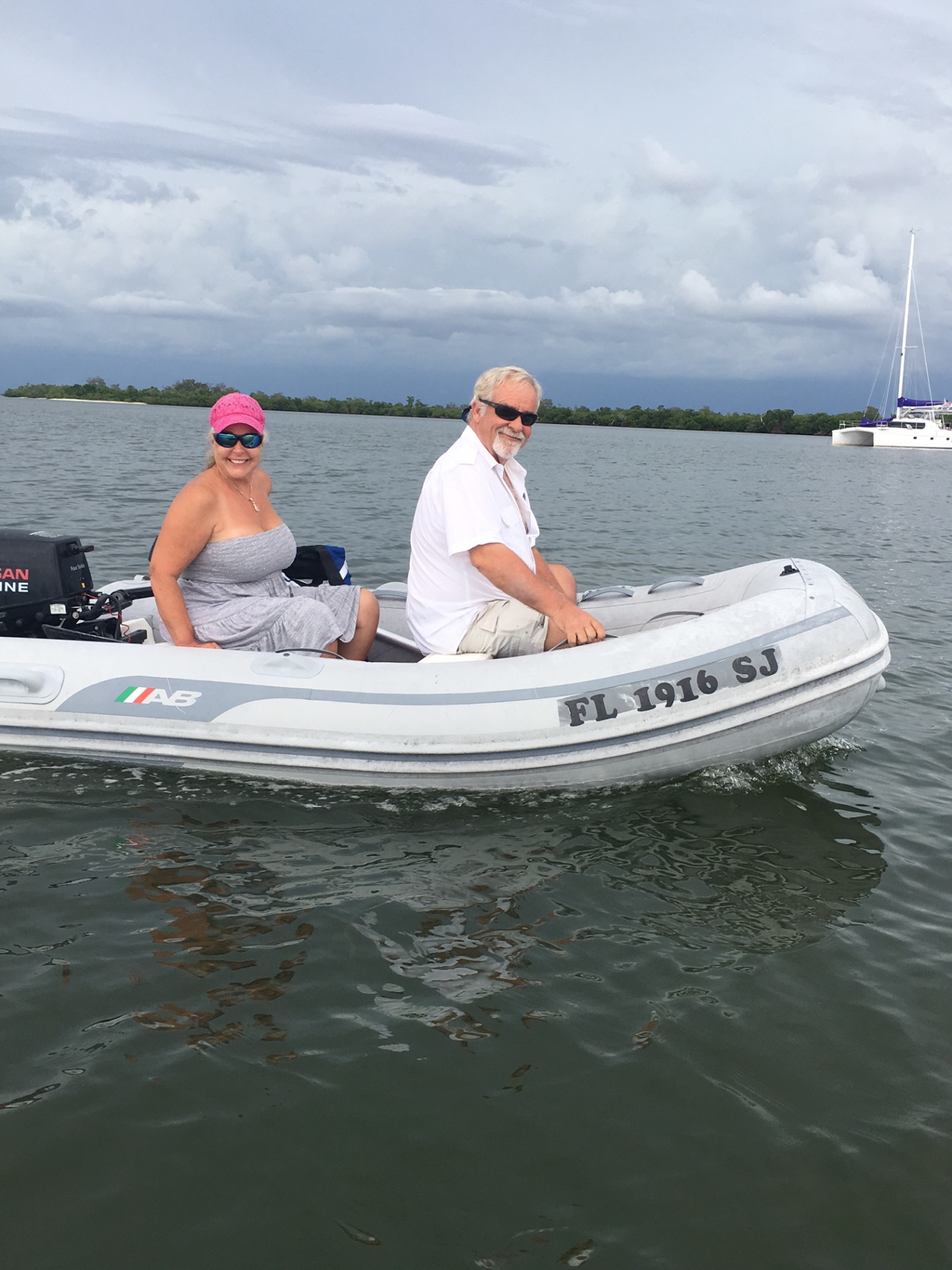 ​We cruised with Pete and Linda, on "Where's Linda?" from there home near ST. Pete to Cayo Coasta State Park. Got luck and we bot tied up to the $10 a nite docks.
<----THis is Pete and Linda

​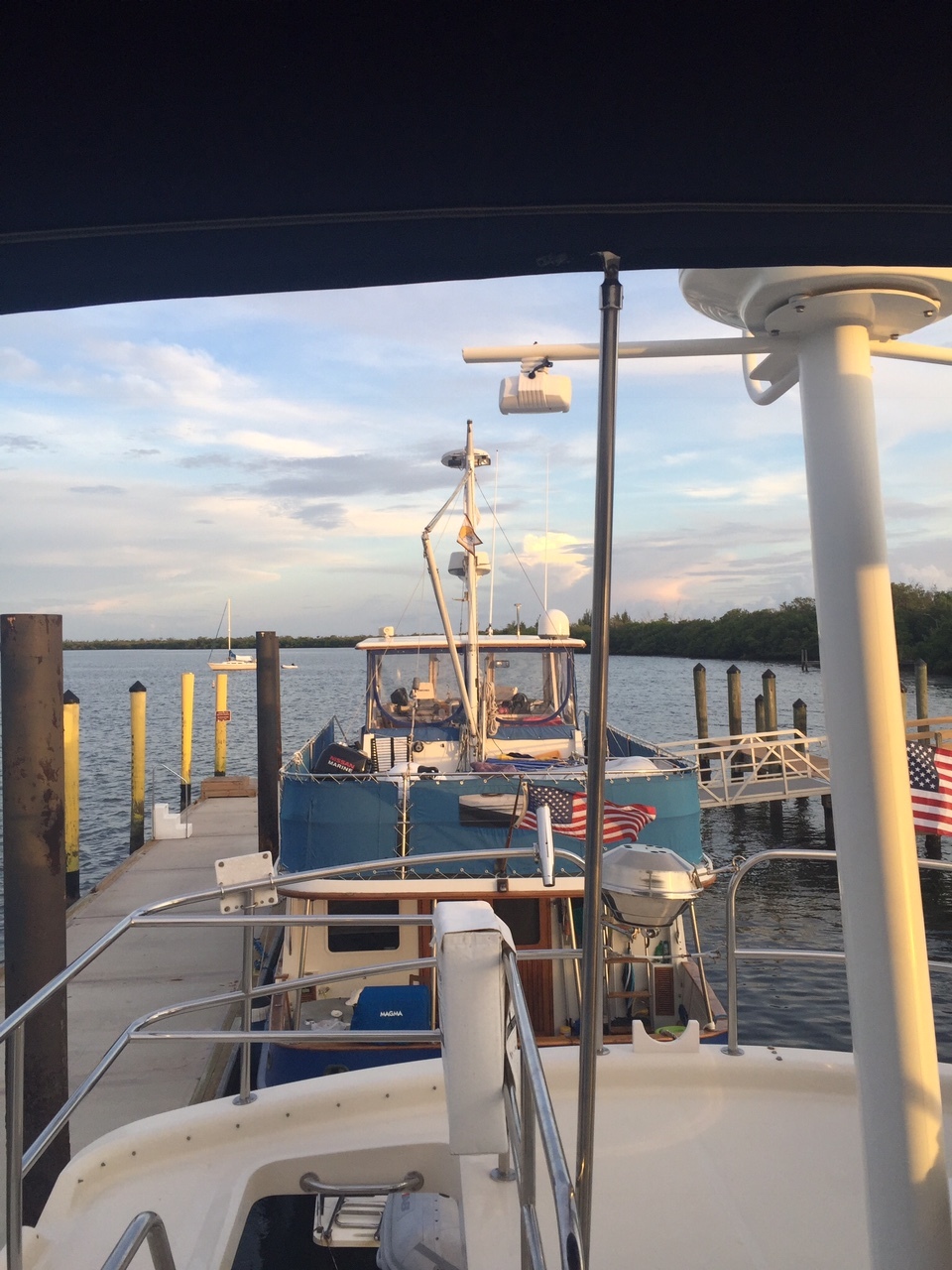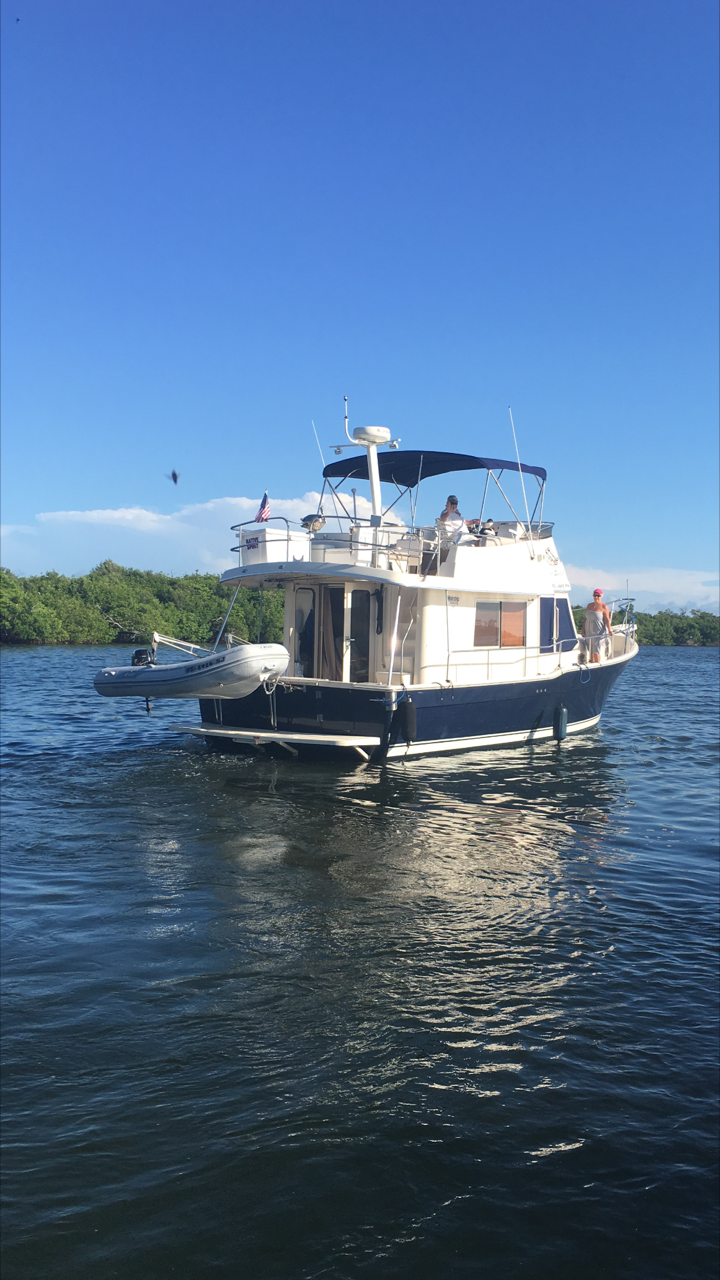 ​

​We stayed here to days. Nice beaches, park setting, quiet at nite, great company.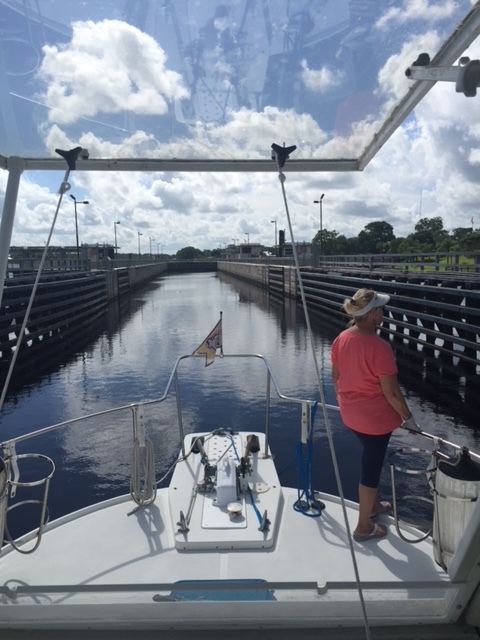 We headed back toward the ST. JOhns via the OkeeChobee Waterway, and our dog P Nut got to do his first lock.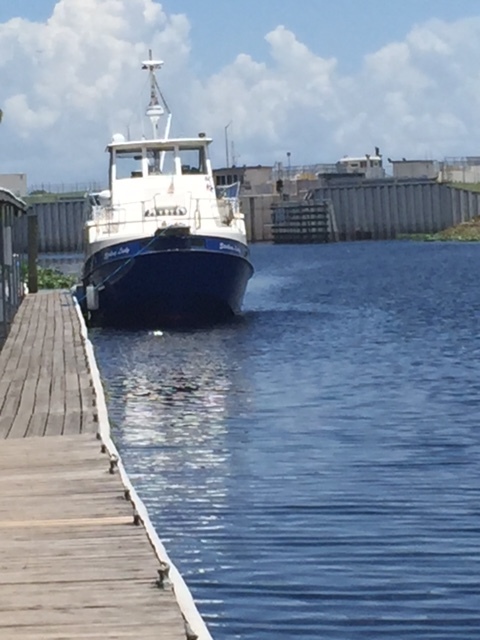 As per our usual, we stoped at Roland Marins marina in Clewiston for supplys and libations.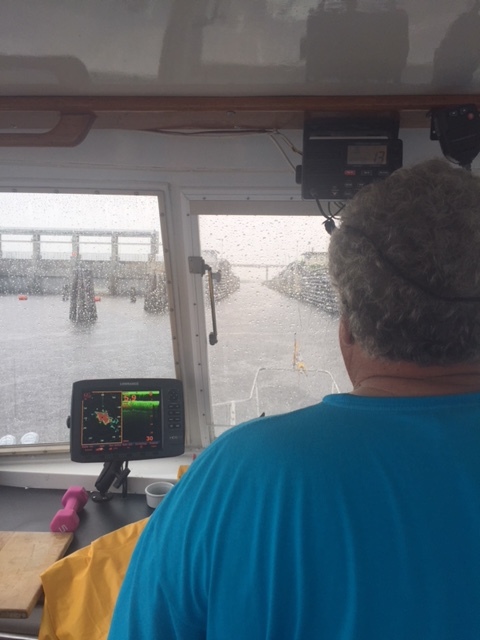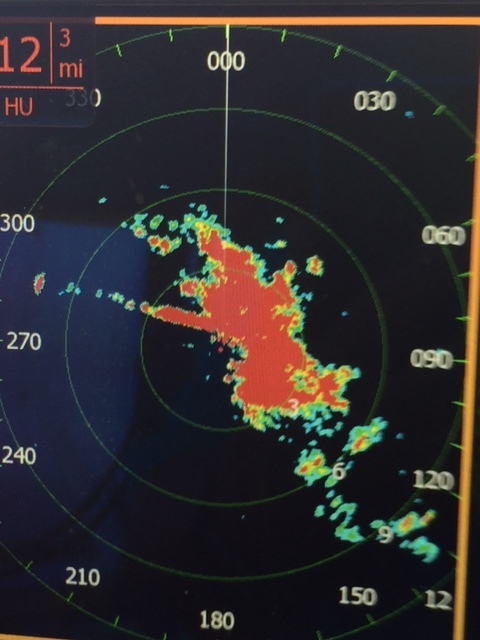 ​The Next day, crossing Lake OkeeChobee and our trip to Port ST. Lucie lock was very wet!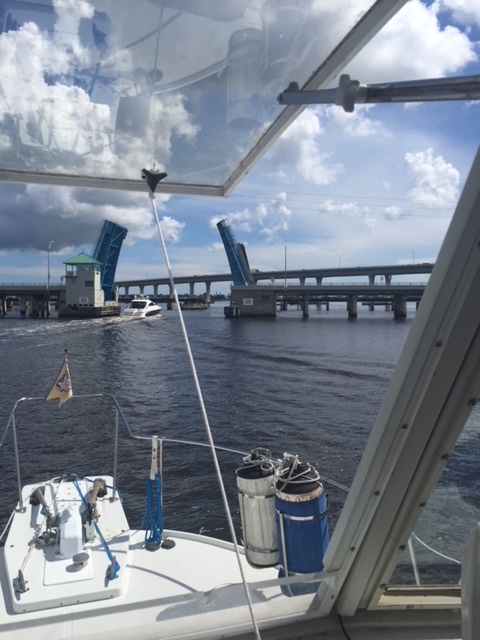 ​The following days trip up to Ft. Pierce city Marina was unevenful. That's good.!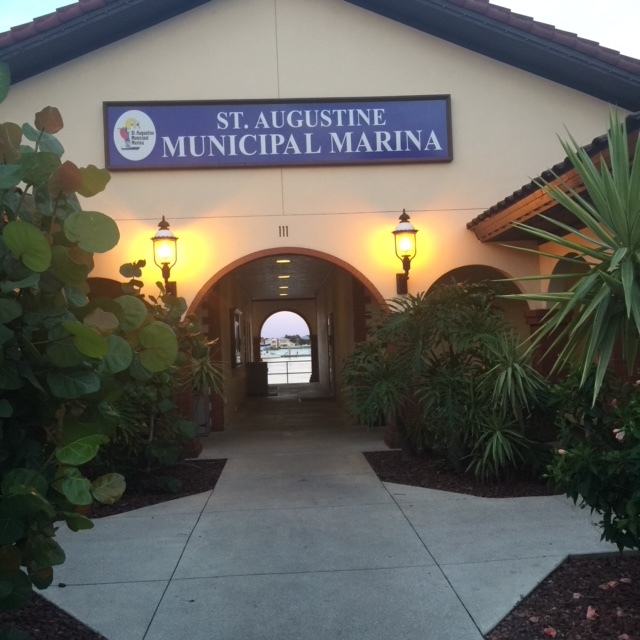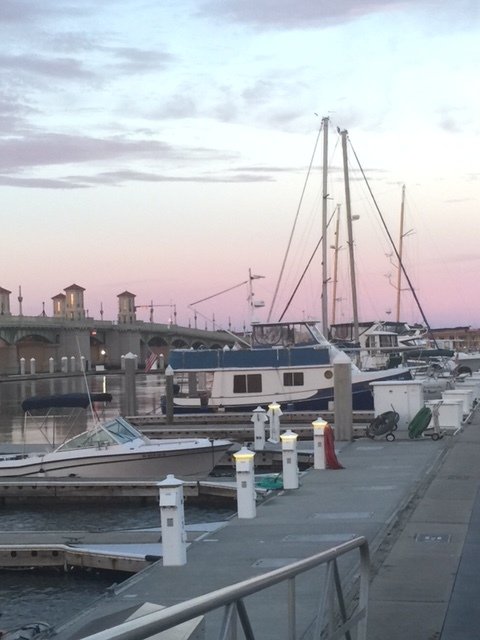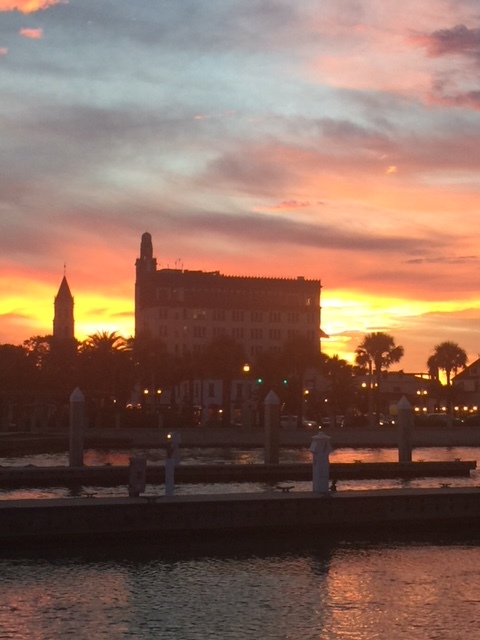 ST. Augustine city Marina, another favorite stop.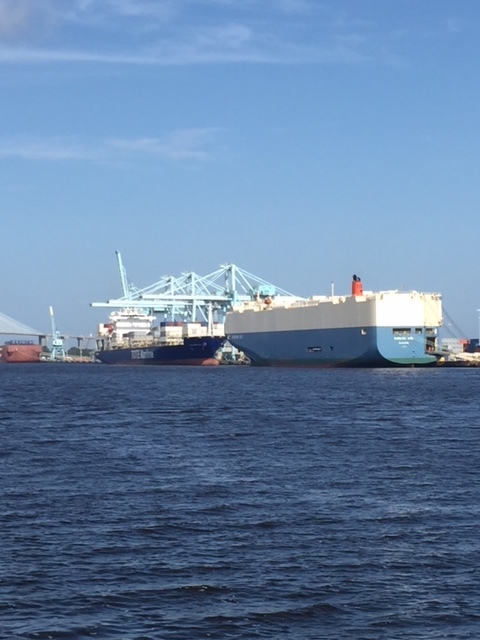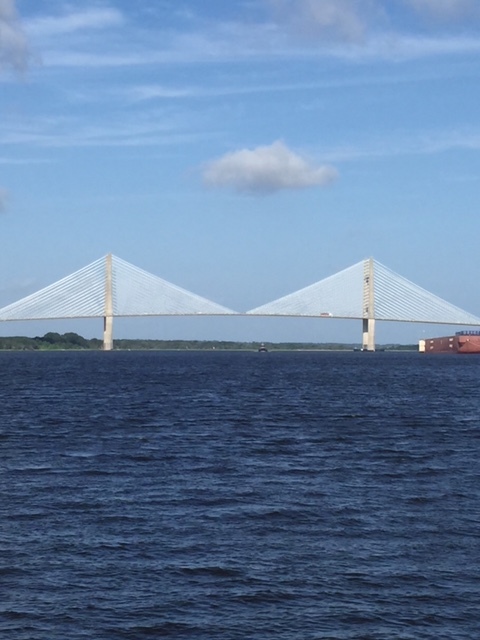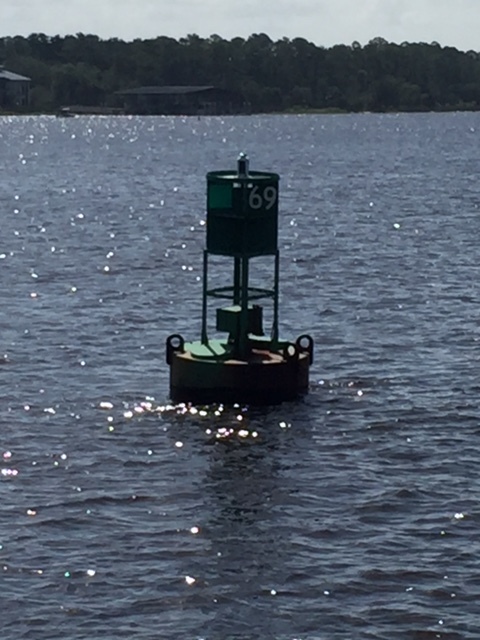 ​Back on the ST. Johns River, taking the Sterling Lady back to her Winter home, Monroe Marina in Sanford Fl.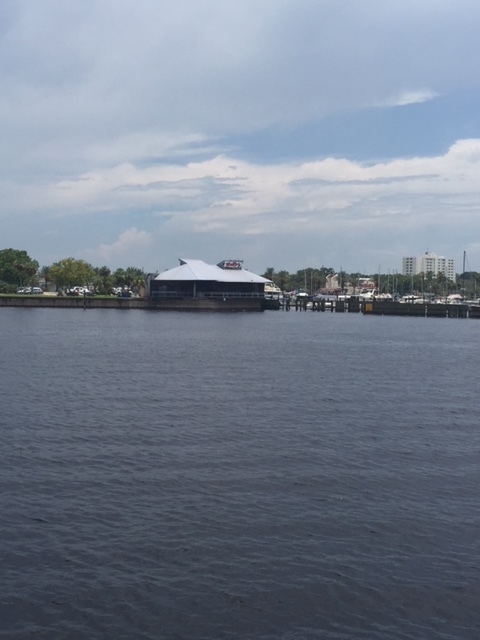 ​As soon as we saw our favorite Sanford Bar, Woolfy's , We knew we where home.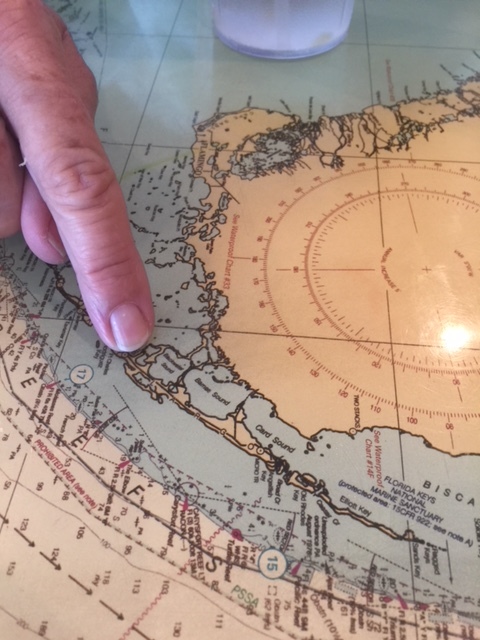 ​Speaking of Home, we live in Key Largo Fl (see whrere we are pointing on the chart) but store our trawler in SAnford fl because the insurance up there is a third of what it is here.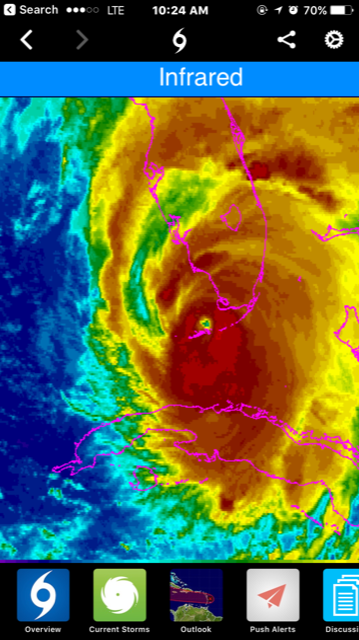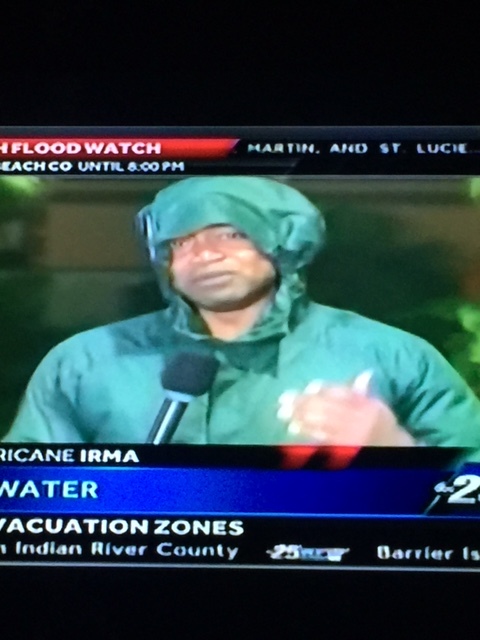 ​

​Hurricane Irma came to visit!!
​We got lucky and barley dodged the bullet again, and the boat did ok. 
​Luckily we had Gumby Damnit on the weather channel guiding us thru .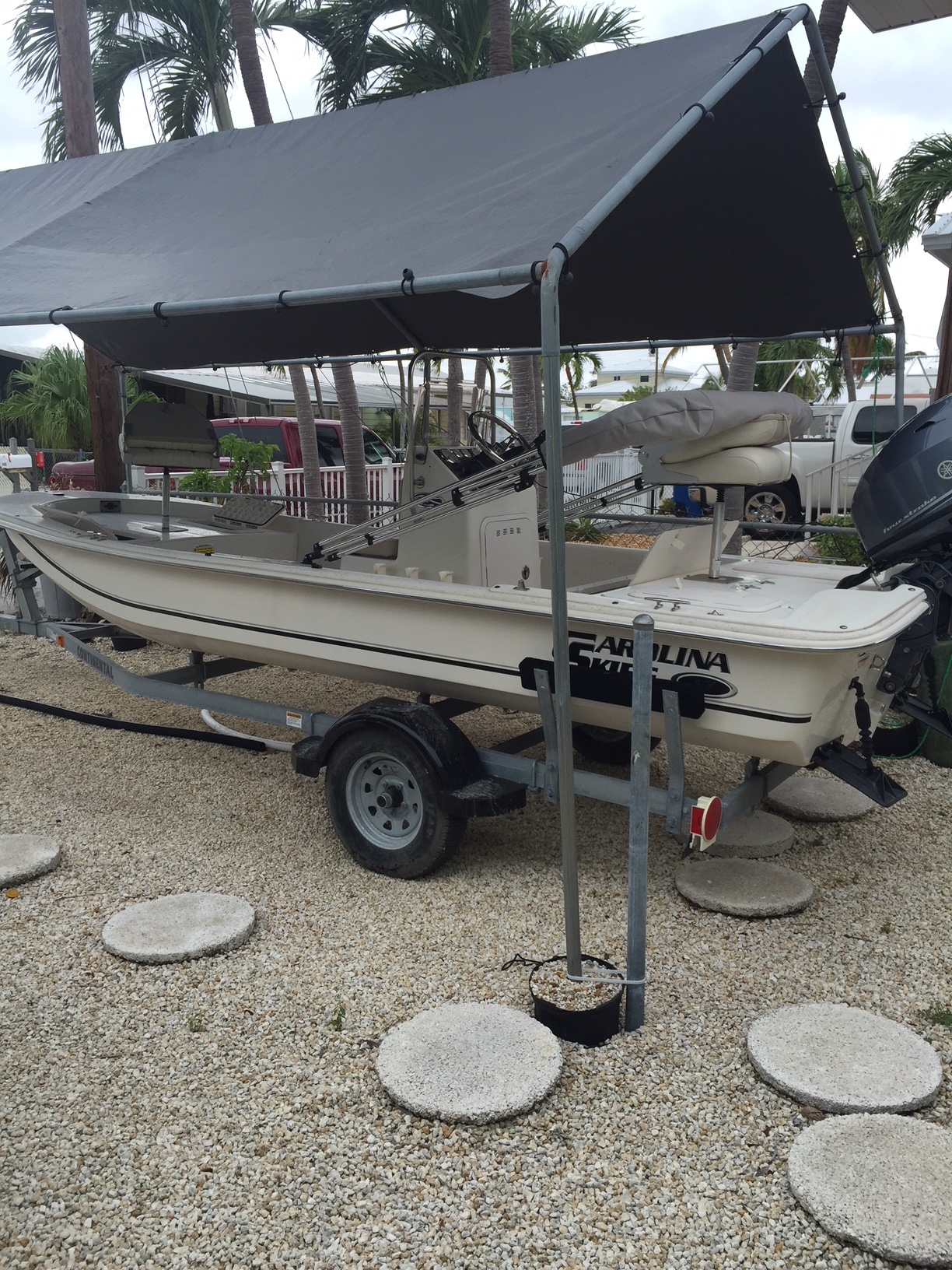 ​Bought this 17 ft. carolina skif, gonna try it out as a dinghy.